February 16th, 2010
Let The Endorsements Begin: Ellis, Adrian
With VDB's own primary not for another long eight months, it's easy to forget that others are under the gun, trying to leg out a tight vote for City Council. Or it would be easy to forget if we didn't see our own Councilor, Russ Ellis, out knocking on doors every time we drive downtown these days. Russ is locked in a tough race in Ward 4, but he has a remarkably serene smile as he hits the bricks. The sort of smile you'd expect on the face of a one-time minister: patient, good-humored, powered by faith in the voters.

Russ is one of Burlington's elder statesmen, an absolutely clear and level-headed City Councilor, unruffled by partisan wrangling, and undaunted in the service of his constituents. Tough to find an area Democrat for whom we have more respect, or one we endorse more strongly. If you're a Ward 4 voter, and you can think of any way to smooth Russ's path this cycle, it's our own personal sense that the Heavens will smile upon you.
And as luck would have it, just minutes after seeing Russ going door to door in Ward 4, we drove by Democratic Councilor Ed Adrian doing same in Ward 1, just past the Campus Kitchen Deli.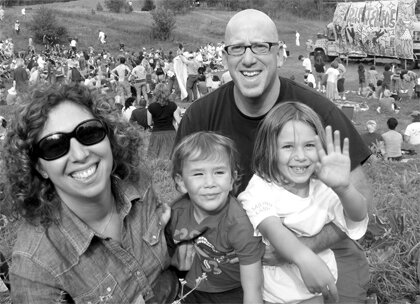 Ed's approach is radically different from Russ's, as he will be the first to tell you. Ed specializes in asking the tough questions, the uncomfortable questions, and in confronting the most impacted problems. He has championed free wireless for the Church Street Marketplace, a move that should be a municipal no-brainer but has been anything but.
Most recently, of course, he was one of the lone voices for dragging the Burlington Telecom situation out into the light.
Seven Days called him "a tireless watchdog," and that's exactly right: Adrian takes oversight and accountability as seriously as any City Councilor we've ever seen.
He does not always make friends doing so, as Seven Days also noted. But given the Kiss administration's absolute unwillingness to consider any change in course, any change in senior management, or any change in the pattern of closed-door meetings and reports that currently mark City government, it isn't just Ward One voters that need Adrian on the Council.
It's Burlington as a whole.
Taken together, Russ and Ed represent radically different but equally necessary approaches to the current political scrum, the yin and yang of Democratic Council politics. We heartily endorse them both.