March 30th, 2012
BREAKING NEWS: In Stunning First, Rick Santorum Makes Awkward Sexually-Tinged Joke, Reinforcing Own Predilection For Things Awkward and Sexually-Tinged
Say what you want about the 2012 GOP Primary race, but admit this: the kool-aid is liberally laced with truth serum. Romney can't seem to stop declaring, out loud and in public, that he enjoys firing people; yesterday he made it clear that this was a taste acquired from Romney Sr. And Big Rick, for his part, just can't manage to stay clear of the disturbing same-sexual double entendre. Or triple, for that matter.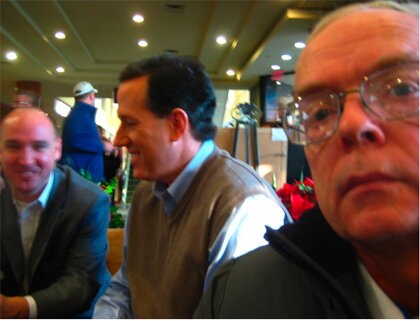 What candidate — in particular what candidate who's been plagued for years by the online confusion of his own name with the particulars of male/male sex — what Presidential candidate marches into the nearby alleys for an evening of heavily-documented bowling, only to have this series of remarks tumble from his lips:
According to Reuters' Sam Youngman, Santorum told a young man at South Lanes Bowling and Pizza in La Crosse to avoid using the femininely colored ball. "You're not going to use the pink ball," the former Pennsylvania senator said. "We're not gonna let you do that. Not on camera."
At the prompting of another reporter, Santorum also quipped, "friends don't let friends use pink balls."
Ridiculous, yes. Tellingly obsessed with that he claims to loathe, yes. But a little deeper, there's just garden-variety, mainstream media-whoring at work here. This is a longshot candidate running on fumes against a frontrunner backed by tanker truck after tanker truck full of fuel — Santorum needs whatever socially-conservative earned media he can get, even off-message scraps. After all, he himself notes, as he makes the actual remarks, that he's on camera. No hot mic moment here, folks.
Which is to say: Santorum saw that young man reaching for the pink balls, and he knew in an instant that it was going to be a very good night indeed.