October 16th, 2008
Nothing Fails Like Failure: McCain Pursues Exact Same "Me Vesuvius" Strategy in Third Debate, Loses By Widest Margin Yet
Every once in a while you'll be watching Judge Judy, and you'll see that one of the two parties involved in the case just doesn't get it: the point of Judge Judy is that you listen to Judge Judy, defer to the televised Court, such as it is, and if you don't, she'll draw and quarter you before a couch-bound nationwide audience. But every so often a guy or girl will come along who insists on getting angry, mouthy, and who refuses to take a hint that they might best settle down.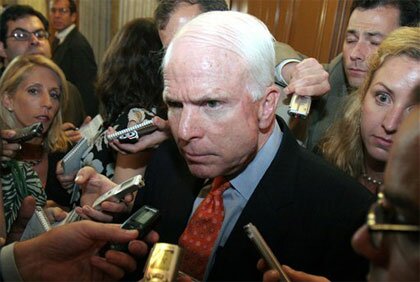 And then it's all over for them: Judge Judy makes them pay bigtime for the sofa they burned, or the car they keyed, and she calls them all kinds of ugly while she does so.
And in an odd way, that's what this final debate brought to mind. John McCain has lost each of the last two debates by wide margins; each time the audience response has shown clearly that he's too hot, too angry, too aggressive, not focused nearly enough on the problems of working people.
For all of his talk about reaching across the aisle, McCain has consistently projected contempt and disrespect. Swing voters have made it amply clear they don't appreciate it.
And so here we come to the last debate, and if anything McCain is angrier, tetchier. Half the time he looked as though he was going to burst out during Obama's responses.
The man simply Does Not Get It, or Can Not Help It.
And CBS News has the snap poll, again, which by this time must sting a hell of a lot more than a tongue lashing from Judge Judy: Obama by 31% (53%/22%).
Good night, Johnny Mac.