October 20th, 2008
Richmond Faces True Gut-Check Election
Funny the things you run across in the Free Press. After spending much of the weekend emailing back and forth with readers pulling their hair out over the three-way race for Governor that looks likely to re-elect Uncle Jim, we pick up the paper this morning to find almost exactly the same situation, writ small, in the race for Richmond's State House seat. Read on, because you'll love this.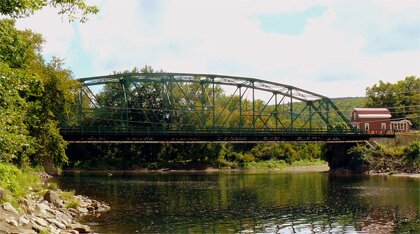 In a nutshell, a three-way race between a Democrat, a Left-leaning Independent, and a Republican could easily favor the GOP candidate. The deeper problem: that candidate, a former practical nurse named Mary Houle, was convicted of physically abusing a patient back in the day. Convicted, and the conviction then upheld on appeal.
Not precisely the resumé you'd think Richmondites would be seeking in their new House Rep.
But what the majority is seeking won't really matter in the end, of course, if an eager Lefty Independent manages to split the vote with Anne O'Brien, the Democrat endorsed by the current holder of the seat.
It always comes back to the need for a functioning bridge, doesn't it?
Without one, you've always got your community divided in half, standing on the banks of the river waving and shouting madly at one another, while the candidates with what amounts to minority support for their ideas glide down the river to Montpelier.
Maddening.