October 21st, 2008
According to unnamed McCain strategists, Iowa, New Mexico and Colorado are now privately considered unwinnable. Much has been said about the power of words, or lack thereof, in this election. But one of these anonymous strategists dropped the singlemost powerful word to date, in describing these formerly must-win Red states: "Gone." Now that's eloquence, my friends.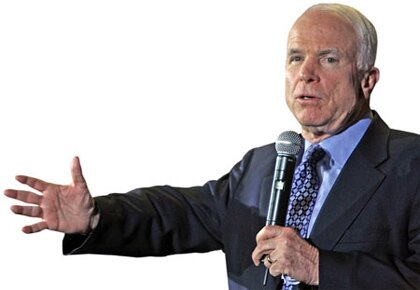 Late Update, 7:03 am:

Having privately conceded the three states mentioned above, in order to focus on more favorable territory, McCain must have been heartened to fly into Missouri yesterday and cast his eye on a fired-up crowd of 15 awaiting his arrival.
No typo: 15 people made it out to the Joplin Airport. But to their credit, they were 15 really, really angry people.
If the guy weren't currently running an openly race-baiting campaign, based almost entirely now on the negative associations behind the words "terrorist" and "welfare," you'd almost begin to feel sorry for him. And that, of course, is just where Johnny Mac wants you. They will be openly pitching for the pity vote within a matter of days, mark VDB's words.
And if you think we're jaded, remember that pity was the overt strategy when McCain's campaign was declared DOA during the primary season: McCain made a comic video for Leno, in which he was shown being greeted by no one at the airport, schlepping his own bag, and finally being tossed into the trunk by the driver. Pathetic like a fox, this guy.