May 1st, 2006
On this third anniversary of the "Mission Accomplished" top-gun carrier landing,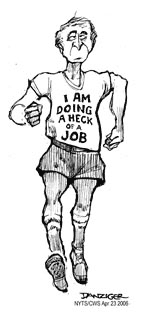 USA Today runs down the many ways in which the US "Marshall Plan for Iraq" has proven unworthy of the allusion. And tucked in all the way at the very, very bottom, these numbers:
"Hundreds of civilian contractors — 516 since March 2003 — have been killed on the job. Last year, 235 contractors died in reconstruction-related activities; 62 fatalities were U.S. citizens, the report says."
More invisible dead people, many more. And nearly half killed last year. I'm no statistician but that curve looks fairly menacing.