December 31st, 2005
I did a post a few weeks back, noting that incumbent candidate for Lt. Governor Brian Dubie owes more than a little to the Bush administration and the Bush world-view.
But who knew how far that relationship would take Dubie?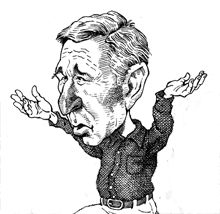 Here's a quick commercial spot from Dubie's website, and I kid you not — if you close your eyes and let it wash over you, you'd think you were listening to Bush the Younger himself. And I'm not just talking about content, although Dubie parrots a low-calorie version of the Washington Republican line.
No, no, no.
I'm talking about delivery: Dubie has adopted the actual verbal mannerisms, the empty optimism, the accent even. I kid you not. If it's not a conscious bit of mimicry, then it's the sort of echo that kids manage of their parents, the sort brought on by intense identification and hero-worship.
He even hits Bush's signature "working hard" line, for God's sake.
I've always been something of a mimic, and I can do a decent George W. Bush, about a 6 on a 1-10 scale. But Dubie's got an 8 going here. Give a listen. It's a freaky thing.