September 21st, 2012
We all have our favorite people and subjects and genres, and every so often a book comes out that seems made just for you. And because it seems so perfect for you specifically, you save it, and go through it slowly once you permit yourself to read it. Felt that way with David Maraniss's masterful biography of Bill Clinton, First In His Class. Richard Ben Cramer's epic tale of the 1988 Presidential race, What It Takes. And most recently, Richard Watts's Public Meltdown: The Story of the Vermont Yankee Nuclear Plant. Because as you know, we love a good Yankee story here at VDB. And Watts tells a very good Yankee story indeed.
As a documentary resource, the book is invaluable, bringing together as it does all of the best, in-depth reporting done on Yankee over the years by journalists like Bob Audette, Paul Heintz, John Dillon, Terri Hallenbeck, and Kristin Carlson. It locates and references between two covers nearly all of the relevent resources and studies — every fact one might need in order to judge the situation on the ground in Vernon, you will find in Public Meltdown.
Yet it's the narrative — the tale — that catches and holds your attention.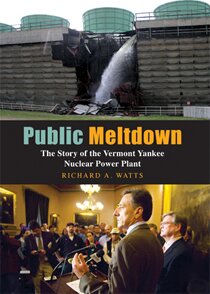 After referencing the disastrous 2011 multiple melt-down at Fukushima, Watts begins, "This book is about another kind of meltdown, a public meltdown that took place over an eight-year period as Vermont citizens and political leaders became increasingly concerned about the management of a nuclear plant within state borders."
And of course that's what drives any story told by humans — human failings, human sacrifice and perserverence in the face of long odds.
And Watts brings it all into sharp relief: how the Nuclear Regulatory Commission was born in a conflict of interest between promotion and regulation; how lax oversight allowed safety to take a back seat from the beginning; how nuclear activists in the state — particularly the New England Coalition and the Clamshell Alliance — began their opposition fully forty years ago; how spectacular malfunctions captured the attention of the state; and finally how a certain, undeniable corporate mendacity eventually caused Entergy's last support network in the state to quickly unravel.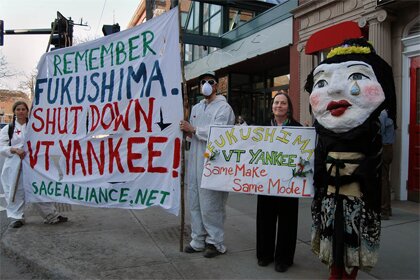 Watts is at his best when he gets to the best and juiciest moments in the story. Case in point: when nuclear expert Arnie Gundersen and others catch Entergy higher-ups in a highly public lie about the plant's extensive underground pipe system, and the nuclear material it carries.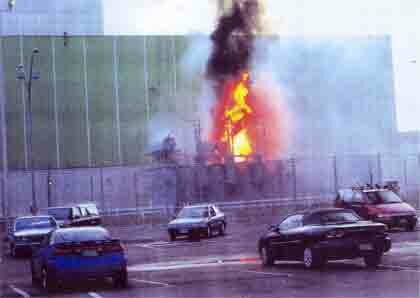 Entergy's lead witness, Jay Thayer, testified on May 20, starting with the traditional oath to tell the truth. The room was silent except for the tapping of the stenographer, whispers from onlookers and people shifting in the blue-cushioned, curved metal chairs. DPS lawyer John Cotter started the cross-examination . . . . He then asked Thayer, "Does Vermont Yankee have any underground piping that carries radionuclides?" Burke peered over his glasses from his seat on the dais.
There was a long pause — 12 seconds — before Thayer responded: "The reason I hesitate is I don't believe there is active piping in service today carrying radionuclides underground . . . . But I don't — I can do some research on that and get back to you, but I don't believe there are active piping systems underground containing contaminated fluids today."

This was the precise moment when Entergy finally slipped over the line between corporate fudging and corporate perjury, and Watt captures the moment brilliantly.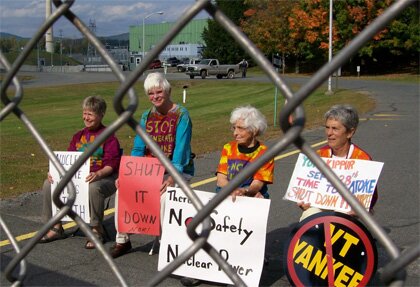 Of course the story doesn't end as VDB would like: the plant continues in operation today, due in large part to a single, dismissive ruling by U.S. District Judge J. Garvan Murtha. But as anyone who has ever followed this particular tale knows, the opposition to Yankee has shown an amazing ability to regenerate and strengthen over time.
Which is to say that time and history — especially with fine books like Watts's — are not on Yankee's side.