April 27th, 2012
WINDHAM COUNTY PROSECUTOR DROPS CHARGES AGAINST MARCH 22 YANKEE PROTESTORS; Some 136 Individuals Will Not Be Tried; VDB Now Apparently Free At Last, To VDB's Mother's Very Great Relief
You may remember that VDB had a brush with the law some weeks back, in which we were arrested with 135 other people for civil disobedience down at Entergy's corporate headquarters on March 22. Now, fortunately this was prior to the Supreme Court's ruling that any American may be strip searched if brought into custody, and the hours we spent in the Brattleboro jail weren't so terribly bad.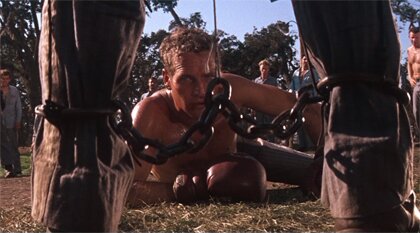 Still, having the trespassing charge hanging out there wasn't comforting — especially in that we were all scheduled to be arraigned over the summer of 2013, more than a year from now.
But yesterday's news changed all of that. Sell VDB's shoes, we're going to Heaven: the Windham County State's Attorney has decided to drop all charges.
Why the decision to avoid 136 separate caseloads? Money, predictably enough. Said Tracy Shriver: "By engaging in civil disobedience, these protesters violated Vermont's criminal laws in an effort to obtain access to, and then use, our criminal courts as a forum for discussions about nuclear power and the continued operation of Vermont Yankee. However, our limited resources, and those of the court, are stretched thin."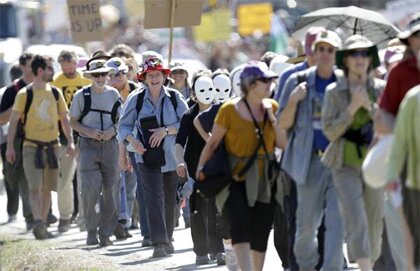 In other words, we are all serious criminals, but the County is more seriously strapped for cash.
What will we do with our freedom and suddenly spotless criminal record? Maybe run on the beach dressed all in white linen, like at the end of The Shawshank Redemption, sand between our toes, safe from the spitter's cell forever.
But the fight to shutter the Vermont Yankee nuclear power plant will go on. As always. Guaranteed.
[Thanks and a hat-tip to longtime reader and fellow protestor Ed Anthes for the good news.]