January 31st, 2007
If you've yet to check out The Real McCain website, by all means do. Often these sorts of targeted sights take slight, questionable issues and puff them up into huge histrionic arguments.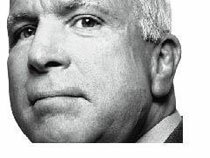 And as a result they're less than effective, overall.
The Real McCain uses very clear, all but indisputable footage of McCain speaking first out of one side of his mouth, on every issue imaginable, and then the other.
And it's difficult to leave the site without concluding that Johnny Mac has simply hung up his personal honor for the 2008 contest.
Best get: McCain on camera talking about Iraq as a day at the beach, and then blasting Bush for not leveling with the American people. The new Bob Dole indeed.