December 27th, 2005
Okay, about two weeks ago, we predicted on this page that ovoid huckster Karl Rove would be indicted by Christmas. We were pretty darn sure of it, as I remember. The headline was something along the lines of "Luxury Rove-Liner Now Inches from Iceberg." Pretty sensational. Pretty darn cock-sure.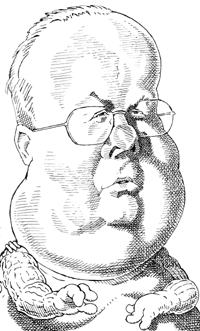 Well, that didn't happen. VDB got it wrong.
And I'm sorry about it.
Last night, I lay awake for hours, night-sweating, feverish: Was it something I did, or failed to do, that has allowed Rove to continue to roll freely about the White House grounds? I just couldn't say for certain, and I still can't this morning.
But I wanted you to know that I've searched my heart.
Oh, don't misunderstand: this fear-mongering tub of goo is still going down, and the shock waves will reach even the deepest of Cheney's nested bunkers. But it might not be until Ground Hog Day. And I'll have to live with my error every day for the rest of my life.
So be it.
With that said, can I just end with a small tribute to the genius of Marc Nadel? Look at that caricature over to the left of this post, really look at it. How many artists could conceive of four chins, let alone render them? Breath-taking.