January 16th, 2007
The boomlet of Obama news, in escalating order of priority: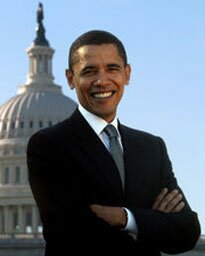 1) The inaugural meet-up of Vermonters for Obama — which we described in near-spiritual terms here — has done what inaugural meetings do: it's given birth to a second meet-up.
Mark your calendars, especially if you missed the first gathering: 5 pm, Thursday, January 18, again at the Euro Market and Cafe, on Main Street, downtown Burlington.
That's this Thursday. No belly-dancing — at least not this night — but all the baklava you can buy.
1) MyDD has front-paged a thoughtful overview of the maturing Draft Obama movement nationwide, with a running comparison to the Draft Clark surge of yesteryear. The upshot? Draft Obama's got the flint and the powder.
2) And today Obama officially announced his intention to test-fire the gun. From the Times: "Senator Barack Obama is announcing today that he is opening an exploratory committee for the Democratic presidential nomination."
3) We've written more than once about the mystical and eerie connections between VDB and the Senator from Illinois, and they are eerie. Wicked eerie.
But the eeriest of all? In addition to announcing his exploratory committee today, Obama set a date for ending the speculation about his run: February 10.
Which would be — wait for it — VDB's birthday. And you know what we want.
That's right, baby: The White House. See you Thursday.