January 19th, 2007
It was only a matter of time before the new Welch staffers became A-list media powerbrokers. This ensemble profile in ROLL CALL (subscription only) is just the first, trust us. Congrats to one and all: Savage, Garner, Thurber, Dougherty, Benjamin and Gray. Mmm, sounds like there's a potential law firm in there somewhere.
— VDB

He Is Now Official
By Jamie Weinstein
Roll Call Staff
January 18, 2007
When last we left newly elected Rep. Peter Welch's (D-Vt.) office, we discovered that he had just named Bob Rogan as his chief of staff. And this was before he had a staff or an office (or was even an official Member of the 110th Congress).
Now, Welch not only has an office, and is a full-fledged Member, but he also has a staff for Rogan to lead.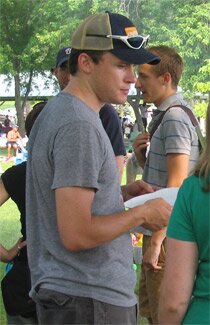 Taking the helm as Welch's communications director is Andrew Savage, 25. Savage held the same title for Welch's campaign from 2005 until the November elections.
Before joining Team Welch, Savage worked as an aide to the President Pro Tem in the office of the Vermont state Senate President Pro Tem from 2004 to 2005. Before that, he was caucus director for the Vermont Democratic Senate Campaign during 2004.
From Calais, Vt., Savage graduated from Middlebury College with a bachelor's degree in political science and environmental science in 2003.
Leading the legislative team in the office is Constance Dougherty, 30, who will serve as legislative director.
Previously, Dougherty worked as a trial practice associate for Jones Day since 2004. She also has worked as a litigation law clerk for Nixon Peabody from 2001 to 2003 and as legislative assistant for then-Sen. Bob Kerrey (D-Neb.) from 1998 to 2000.
Dougherty earned her bachelor's degree in government from the University of Notre Dame in 1998 and a law degree from Georgetown University in 2003. She is from Omaha, Neb.
Serving as a legislative aide and office manager is Claire Benjamin, 25. Benjamin previously worked as a legislative staff assistant for the Senate Judiciary Committee and a legislative correspondent for Sen. Patrick Leahy (D-Vt.). She also worked on Welch's campaign for Congress.
A native of Topsham, Vt., Benjamin earned her bachelor's degree from the University of Vermont in 2004.
Ches Thurber, 24, joins Welch's office as a legislative correspondent.
Before coming to Capitol Hill, Thurber worked as a legislative aide for Welch, who was then the Vermont state Senate President Pro Tem in 2006. He also worked as a policy specialist for the Vermont Medical Society and as a legislative assistant for the United Parcel Service.
While Thurber said he will miss "sneaking [Welch's] dog into the Vermont State House," he said he looks forward to the responsibilities of his new job, and "corresponding daily with Vermonters about public policy issues they are passionate about."
From Burlington, Vt., Thurber graduated from Middlebury College in 2004.
Coming to the office as its scheduler and executive assistant in Molly Gray, 22.
Gray previously worked as a scheduler for Welch's campaign for Congress. In 2005 she interned in the district office of Leahy, Vermont's senior Senator.
Gray, who said she "grew up on a vegetable/dairy farm in the Connecticut River Valley of Vermont," is from South Newbury. She expects to receive her bachelor's degree in European Studies from the University of Vermont in 2007.
Finally, Calvin Garner, 23, will work as a staff assistant and press aide in the office. He previously worked as deputy communications director for Welch for Congress.
Garner said that he will miss "dogs in the office" from his old job but looks forward to "no dog hair" in his new job.
From Middletown, Conn., Garner graduated from Middlebury College with a bachelor's degree in political science and Russian in May 2006.