June 14th, 2006
What's the difference between a political blogger and a journalist? When you're a blogger, people send you pictures of themselves buck-naked, riding their bikes.
Michael Nedell — Burlington novelist and political provocateur — coordinates Burlington's participation in World Naked Bike Ride, a yearly event designed to raise awareness of oil dependence and a rampant car culture.
This morning, Michael reported in from the field: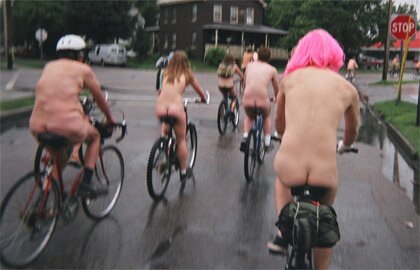 Phil,
I like your site. I might be able to keep track of what is going on around here now too.
Naked Bike Ride — it's a world-wide event. They had over 700 bikers in London this year. It is clothing optional, but we encourage everyone to ride naked. This is the second year Burlington has participated in the ride. We had 18-24 people last year, and 40-50 this year. I was the main organizer both years, so there was no official count. I tend to be a whirlwind while it is all going on . . .
Lots of butt in mostly all of our shots . . . hard to ride and take photos at the same time!
Take care Phil!
Michael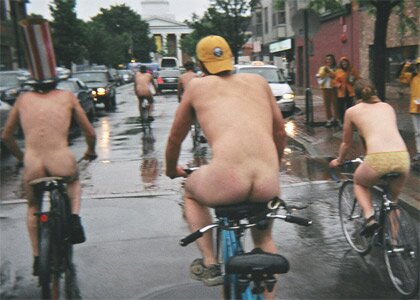 While VDB doesn't generally advocate public nudity, we admire the dedication here, the courage, the grit, the intensity. Maybe a man can't truly call himself a political junkie until he's ridden the cobblestones of Church Street aboard an uncompromising, brutally chap-inducing ten-speed seat.
In fact, maybe a man can't truly call himself a man until he's let it all hang out for his beliefs.
Maybe. VDB doesn't know for sure. And will never find out, not in a million years.