October 8th, 2007
God knows we here at VDB think the Bush girls are both sweet as punkin pie, and no one empathizes more keenly with an author working the boxstore circuit. But we have a few quick questions about Jenna Bush's recently launched 25-city book tour.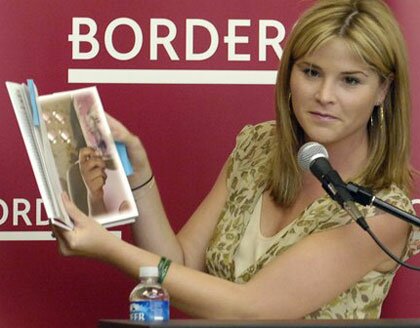 First, here is the actual, unphotoshopped image the Bush spin machine chose to make available to the global media. Carefully vetted, of course, for all the key details: perfect hair, scholarly pose, Borders logo — and book open to illustration of hand clutching huge knife.
Question? Why not go with the glossy, four-color waterboard graphic on page 78?
Second, Jenna staged an after-party across the street from the White House, an affair attended by her parents and a scrum of journalists. And in riffing about her father, Jenna, in her knee-length turquoise dress, had this to say:
"I don't think I'd do any writing or anything to make me feel good without his encouragement."
Question? Why, after a good half-century mangling the mangleable in the public eye, is anyone in the Bush clan still ad-libbing? These are people who should only be permitted to communicate with the rest of the world through a TelePrompTer.
One with a clearly marked "On/Off" switch.