February 8th, 2012
Pundits are absolutely agape with amazement this morning, because VDB's ancient nemesis Rick Santorum managed to win not one, not two, but all three Republican primary match-ups last night. Our take? Nothing was easier to predict. Seriously, you think it's some sort of accident that Santorum brings on Vermont's own Mark Johnson as inner-circle svengali and almost immediately rockets from stumblebum to superstar? Not hardly, folks, not hardly.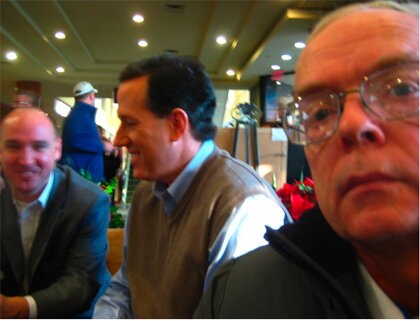 A newly focused stump speech, freshly honed attack points, subtle wardrobe accents — all the hallmarks of Johnson's handling.
And the final tell: Santorum's new aggressiveness in attacking Romney looks very much to VDB like the effects of a complete and radical change in coffee — Santorum has clearly been switched from some no-name Pennsylvania grounds to straight black Vermont Coffee Company brew.
Wednesday morning take-away? The road to the Presidency might as well be called the Mark Johnson Memorial Parkway. Word.