February 17th, 2012
So the Mayor's race is coming to its predictably nail-biting climax in the storied city of Burlington, and — also predictably — you've meant to help this guy Miro get elected, but work kids family job etc. Not to worry: VDB has you covered. We've helped to put together one final bash to boost Weinberger over the top, and you're so invited.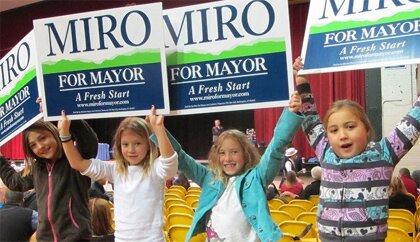 We will drink some, eat some, and kibbitz over what needs kibbitzing. So please join us and Miro and an electoral co-host cast of thousands, featuring:
Attorney General Bill Sorrell
State's Attorney TJ Donovan
Senator Ginny Lyons
Senator Hinda Miller
Senator Philip Baruth
Representative Johannah Donovan
Representative Jason Lorber
Representative Suzi Wizowaty
Representative Kesha Ram
Representative Jean O'Sullivan
City Councilor Bill Keogh
City Councilor Joan Shannon
City Councilor Ed Adrian
City Councilor Norm Blais
City Councilor Bram Kranichfeld
City Councilor Dave Berezniak
We'll be forming up at the St. John's Club at 6 pm on Thursday, February 23rd. And what we're looking for more than anything else is energy, unbridled fire-in-the-belly energy. So bring friends, and let's take this thing into the endgame.