August 21st, 2007
Okay, we'll be the first to admit we understand nothing about Wikipedia, or any of its enabling technologies. We use it the way we use the Ouija board: mystically, with all the lights on in the room.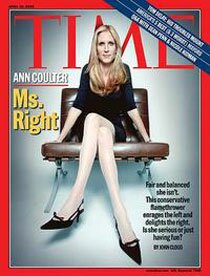 But even with that skepticism noted, we did a double-take when a VDB post showed up in the notes for the entry on the Caledonian-Record.
Our only interaction with the Record came back in the first weeks of March, during the Edwards-Coulter dust-up, or rather in its first movements, since the clash is arguably ongoing.
But to refresh your memory, when Coulter put aside her hinting and came out and called Edwards a "faggot," and followed that up with some sympathetic words about those who assassinate abortion doctors, we called for a boycott of the Record, the only paper in the state to carry Coulter's column.
Now, granted, the text of the Wikipedia entry does reference the Coulter controversy, so arguably there's a good reason to include a VDB post that is explicitly and irreversibly anti-Coulter and hence anti-Record.
But it does lead for a strange sort of slippery slope, arguably. Are all Wikipedia entries for liberal causes and outlets going to be clogged with material from their ideological opponents, as well as vice versa?
Anyone out there know the ins and outs of Wikipedia? Anyone savvy the logic or the guidelines here?
Because if ever there is a Wikipedia entry for VDB, we're damned if it'll contain notes and commentary by Michelle Malkin or Bill O'Reilly.
In fact, double-damned.