February 18th, 2006
Rumsfeld Declares VDB "Weapon of War"
Rumsfeld takes the War on Terror boldly New School:
"NEW YORK (Reuters) - The United States lags dangerously behind al Qaeda and other enemies in getting out information in the digital media age and must update its old-fashioned methods, Defense Secretary Donald Rumsfeld said on Friday.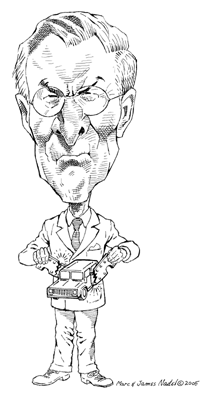 "Modernization is crucial to winning the hearts and minds of Muslims worldwide who are bombarded with negative images of the West, Rumsfeld told the Council on Foreign Relations.
"The Pentagon chief said today's weapons of war included e-mail, Blackberries, instant messaging, digital cameras and Web logs, or blogs."
I have to confess, I read this Rumsfeld article with a deep sense of shame. Because I realized that I had been thinking of VDB from the get-go as something personal, or expressive somehow of my politics, my aspirations for the US of A.
Me, me, me. I never once thought of my country's needs. I never once thought of VDB as a weapon of war.
But all of that has changed. Starting Monday, we will get with the program. First a series of cluster-posts to soften up the readership, then long, percussive profiles and chin-pullers — one after the other — to create a sense of widespread shock and awe.
And then, yes, carpet-blogging. Until all resistance ceases.
Not the most "humane" solution, of course, and no doubt knee-jerk liberals will find the use of rhetorical force excessive. But then, 9/11 changed everything. Including "web logs," or "blogs."
Thank you, Mr. Secretary, for the call to duty.
VDB must never again forget: We blog them in cyberspace so we won't have to blog them here.