April 19th, 2006
Bush Begins Severing Fingers
On March 3rd, in a post slugged, "Bush Eyes Finger of Right Hand," we noted that the resignation of Matthew Broderick — the Homeland Security department's director of operations coordination — wasn't going to right Bush's foundering ship of State.
And we made this prediction: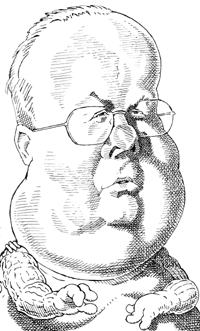 "And so, a Prediction: by May Day, Bush will finally give one of the Heavy Hitters the heave-ho. That would be the Big Five — Rumsfeld, Cheney, Chertoff, McClellan, or Rove.
"In essence, the President will be forced to cut off one of the five fingers of his right hand. Because he will see no other way.
"Mark those words. And VDB will bring you the details, because we too will see no other way."
Well, today's the day, baby: McClellan and Rove — two fingers of the right hand — officially history.
VDB predicted Mayday, but it turns out we actually brought it in some twelve days under the wire.
That's how hard we're working to keep your business.