October 18th, 2006
VT Senate Debate Turns, Well, Batshit-Crazy
Granted, three weeks out from any election, and people get exercised. Maybe a lawn sign gets dragged off in the middle of the night. Maybe a candidate talks a little trash about his opponent's foreign-made sedan.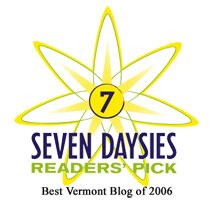 But this is no ordinary election, my friends. We are entering the electoral end-times, apparently.
Nationally, the GOP and its subsidiaries have taken to running mind-bogglingly racist ads in a desperate attempt to peel off African-American voters.
And here at home, well, there's last night's Vermont Law School Senate debate, intended primarily as a forum for Bernie Sanders and Rich Tarrant. But according to the Valley News, "the atmospherics at a Vermont Law School debate came with four lesser-known candidates who sought to steal the spotlight."
Atmospherics? Well, say, that doesn't sound so bad. But of course the devil is in the details:
"At least two called the Bush White House 'terrorists,' with one later being handcuffed and being cited for disorderly conduct. He had earlier directed an expletive to two student questioners."
According to reliable sources, the questioners were referred to as "these two shits." Think that borders on batshit-crazy? Well, don't answer yet! Let VDB toss in the kicker:
"[Liberty Union candidate Peter] Diamondstone then refused to stop talking after his allotted time, and, at the request of student organizers, was escorted from the stage by Windsor County sheriff's deputies. In a hallway outside the debate, Diamondstone continued his protest to return to the debate. At one point, he was pinned face down on the floor in a law school hallway by two officers and handcuffed."
Electoral end-times, folks. Tomorrow's forecast: toads fall from the sky in a driving rain. Hang tough.