December 15th, 2006
Early Obama Meet-Up Confirms Obama Rule; Event Crashed by Wild Kids in Jammies; Authorities Credit Feet in Pajamas with Holding Noise Level Down
So as regular readers know, VDB has been intrigued by the notion of an Obama candidacy for months now, not simply because of who and what Obama is, necessarily, but because of the way Americans react to what they believe him to be.
They react more like, well, Americans.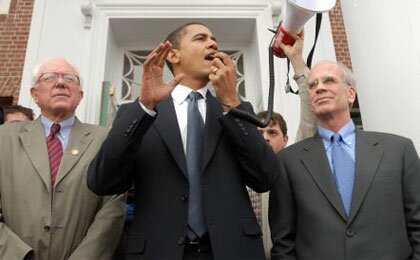 His visit to UVM's Ira Allen Chapel was the highlight of the 2006 House race, with hundreds of people turned away even from the overflow areas.
VDB was at that event, and it was unprecedented: people clinging desperately to sills outside the tall windows, banging their hands on the glass during pauses in the man's speech.
And from it, we developed the Obama Rule: Expected Turnout for any Obama event, when multiplied by a factor of 3, gives a pretty accurate forecast of Actual Turnout.
And last night pretty much cemented our mathematical thinking on the subject.
The Very Early Obama Meet-Up was scheduled for 6, at the Euro Gourmet Cafe on Main Street in Burlington. And ordinarily you'd want to show up at 6:15, in order to avoid being the first to arrive and stand awkwardly with hands in pockets.
But this time, we decided to take one for the team, and be the first to arrive on purpose, and make others feel to home. In the holiday, as well as the Obama, spirit.
Scratch that plan: at 5:55 it was hard to find a chair, with nearly 20 people already warming seats, sipping drinks, deep in discussion about class-action legislation and the Bankruptcy Bill.
By 6:15 we had 30 people packed into the back of the Cafe, and the woman who runs the place, Anita Selec, was moving lepinja and spanikopita at a pretty brisk pace.
You had to admire the can-do attitude: Anita found out about the meeting only when activists started streaming in the door, and she had a massive group of Italian emigres coming in at 8.

But without missing a beat she began to evangelize for Obama, whenever she picked up the phone, or sold someone a block of feta. "Oh yes, and we have the Obama-rama going on in the back," she'd offer, along with the newly-installed wi-fi system, and the belly dancing on the 13th of January.
And as we went around the room and talked about why we were there, it was clear that more than anything the answer was atmospheric, and spiritual, and emotional: we were almost to a person hard-core political types looking for some spark of inspiration.
A way to light a fire under 2008, a clean-burning fire.
Everyone claimed still to be a skeptic, to need more convincing about an Obama candidacy, but everyone was open about yearning to be convinced, needing a source of Hope.
And of course, kids in jammies don't help, if you're trying to avoid having your heart warmed.

Now, VDB broke from the Lutheran Church in a schism of one back in 1974. At issue was one of the Miracles of Elijah, in which the Lord sends bears to maul a group of children who have mocked Elijah for being bald.
Our minister said it was to be taken symbolically. A symbol of what, VDB wanted to know.
No logical answer was forthcoming.
But last night, we began to see that deep in the depths of our political junkiedom still lies a need for some sort of more open, less cynical community, the sort people say they find in their churches.
And that's what seemed to animate the meet-up last night, as much as anything: the need to keep hope alive, the need to foster goodness, the need to infuse the American body politic with a morality based in justice, rather than judgement.
Felt good, in a word.
Oh, and plans were laid, and soon a blog will be born unto Vermont. More details as they become detailed.
Many more.