February 20th, 2008
Last-Minute Attacks Run Up Obama Margin
A brilliant night. And it ain't over yet. But with 65% or so of the Wisconsin tally in, one thing is certain: Obama not only survived a week of Clinton attacks and sniping pundits, he fattened his margin, by a good bit. And the attacks and the results are not unconnected. Exits show that Wisconsin voters heard Hillary's negative ads — and held them against her. Which, as Cyrus said just before he was gunned down in The Warriors, is the way things ought to be.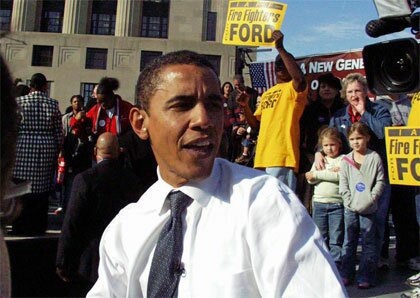 Some 53% told exit pollsters Obama had been "unfairly" attacked; only 33% said the same of Clinton. Which may complicate the plans to defend the Texas and Ohio firewalls, respectively.
Or not. Wolfson and Ickes and Penn haven't got a single feeling human heart between them, and no doubt they're already emailing out whatever oppo research they have left in the satchel.
They haven't shown much inclination to change the three rhetorical cylinders Hillary has been firing on for the last year (35 years experience, ready on Day One, will out-Republican the Republicans) and they probably won't see any percentage in backing off their attacks.
Not that we're complaining, you understand.