August 16th, 2009
Obama Clearly Bagging Public Option; VDB Predicts Approval Rating Below 50% By Late September, And It'll Be Very Well Deserved
Your Healthcare Update In Sixty Seconds Or Less: Clearly the White House would like to signal that the battle on the Public Option has been fought and lost. Obama, Durbin, Sebelius, all of the Administration's key health care types have moved publicly to the extremely minimal notion that anything that increases competition and coverage is Good. Anything at all. Which, we suppose, is Change, of an impoverished sort. But not Change We Can Believe In.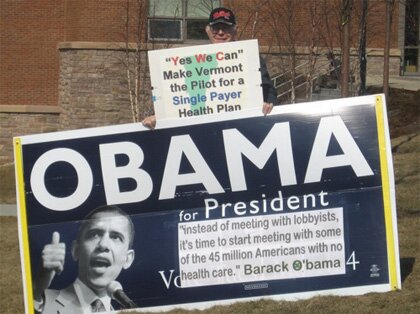 Our take: VDB opposes any plan going forward that omits a public option. Period. More to the point, we continue to actively support a single-payer pilot program in Vermont, to prove the concept and energize small business. Less politically viable, perhaps, but far more intellectually honest.
And that, as Baretta liked to say, before he shot his wife and beat the rap, is the name of that tune.