January 7th, 2011
And So It Begins: VDB's Second Major Forrest Gump Moment, Involving An Inaugural Speech, Killer Seats, And Unfortunate Boom-Mike Placement
Back in 2008, VDB was a delegate to the Democratic National Convention, and we all assumed that Vermont (less population than any single neighborhood in Chicago) would wind up in the nose-bleed seats, by the central ventilation fan outlet. But no. We'd forgotten that Howard Dean was the Chairman of the DNC, and that this would be his last national convention with the power to Do Good Things.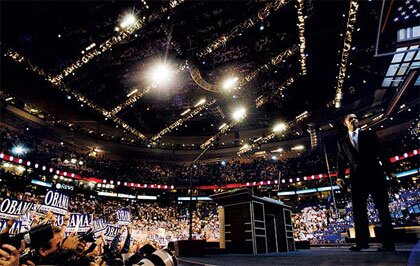 So when we woke up at 4:30 am to catch the plane to Denver, we checked email and found a map of delegation seating. And shit howdy: we were in the front row. Literally. Could have chucked a pencil, underhanded, up onto the podium.
For which: thanks again, Governor Dean. Forever.
It was a Forrest Gump moment, to be sure, in which an unlikely individual is cast into choppy historical waters, but suffice it to say that VDB was loving life.
Fast-forward to yesterday's inaugural. It turns out that when there's a joint session of the Vermont House and Senate, the Senate sits up on the long dais, to either side of the podium. Also turns out that the Senate files in two by two, and parts at the podium, to fill the chairs on either side. Turns out further that as luck and tradition would have it, seat #12 (VDB) winds up sitting pretty much in the Lieutenant Governor's lap, directly beside the podium.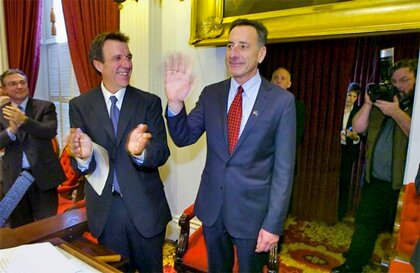 Governor Peter Shumlin, right, speech complete; Lt. Governor Phil Scott center; VDB, left.
Which made for a spectacular view of a new era. It was a stirring speech, and every line was music to VDB's ears: the broadband, the healthcare, the renewable energy, etc. Again, absolutely loving life.
Not an entirely glitch-free experience, of course.
Turns out as well that this inner radius is also the hunting ground of the state's most accomplished photographers, and they got that way by being fearless about where they stand and shoot. Which is to say we spent roughly the first ten minutes with one photographer's butt and fanny pack squarely in our face.
And then, to put it gingerly, there was the microphone incident.
If you look carefully at the Free Press photo above, you'll see that whatever dignity remained after the fanny-pack incident was marred forever by unfortunate (and misleading) boom-mike placement.
Life, as Forrest liked to say, is like a box of chocolates. [Insert final candy-themed double-entendre here].