September 9th, 2008
Just when you think that Karl Rove and his American Conservatives are the lowest of the low, those wacky right-wing Canadians kick it down a notch. You'll find the story in the Times under the, uh, headline: "Pooping Puffin Paralyzes Canada Conservative Event." We shit you not.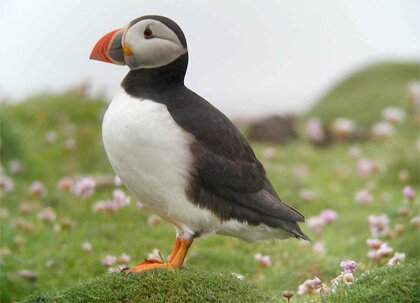 Apparently the Conservative Party's website featured an animated puffin defecating on Liberal leader Stephane Dion. No joke: on the screen, the puffin dive-bombs the opposition party leader. This so shamed Conservative leader Stephen Harper that he botched his roll-out of a diesel tax-cut.
Worth noting that here, in the US of A, the Puffin would not only drop the dung, but then fly to the pinstriped sleeve of a fierce yet paternal John McCain, above the single military star and the tag, "Country First."
But there's no denying it: Canada has its own electoral mess to deal with now, given that a special election has been called.
We refer you, as always, to Vermont's most knowledgeable Canadian blogger, Paul Martin, for all the dirty details. His site, "As Canadian As Possible Under the Circumstances," is always a must-read for those of us within easy puffin-range of Quebec.