May 3rd, 2010
You have to love it: a neighborhood that borders the train tracks in Essex Junction decided it was time for a major spring cleaning, and after intense negotiations with Amtrack, they got an agreement to shut down all rail traffic for one hour this past Sunday. All traffic halted. Boom. Amtrack calls this "Track Protection," this grant of time to the local community. Amazing that the Junction got that time, and typical of the Junction that they didn't waste it.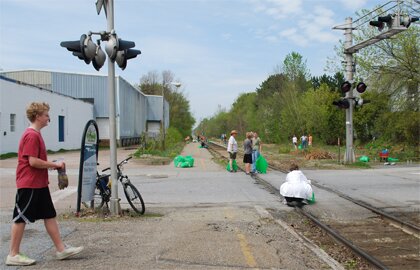 Of course, operatives on the ground had contacted the State Senate campaign in advance, and we'd gone into full-scale volunteer mode. The network was activated. The big ugly gloves were pulled out. We got our game faces on.
And at the scene we hooked up first with Dave Crawford, the Village Manager, for a little serious talk about how the Village is building a revitalized rail system into their plans going forward. Great guy, Dave. Big into trains.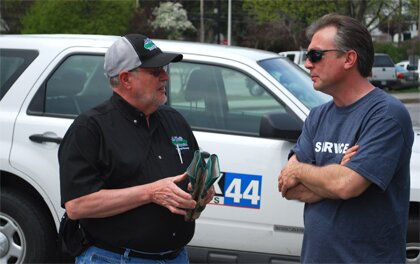 Jim Douglas rides into town this coming week to celebrate the infusion of money to upgrade tracks north to St. Albans, but the Village has another plan to complete an upgrade to Burlington. A brilliant idea, we think.
More and better and faster rail, that's our motto.
And then at the stroke of one, Track Protection kicked in, and the volunteer contingent fanned out. It was a fantastic crew, maybe a quarter from our campaign and three-quarters from the neighborhood bordering the rail yard. Wonderful people, and very dedicated to reclaiming this spot. Maybe even expanding to a bike/walking path.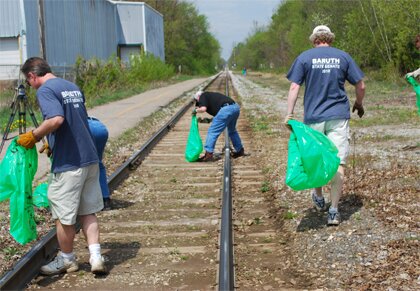 Because really, do neighbors ever look any more cool and heroic than when they're pitching in to make the larger neighborhood new again? Not likely.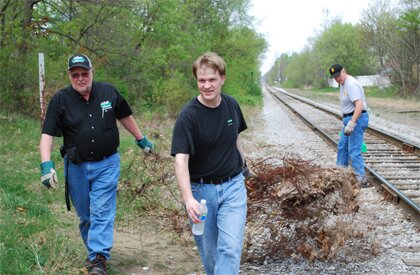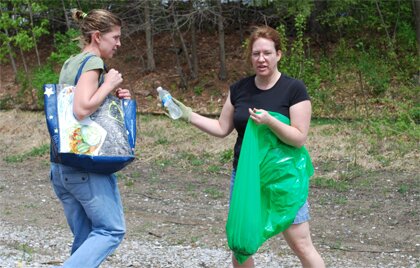 Do kids ever look more worthy of eventually inheriting the planet than when they're tending to it with their parents?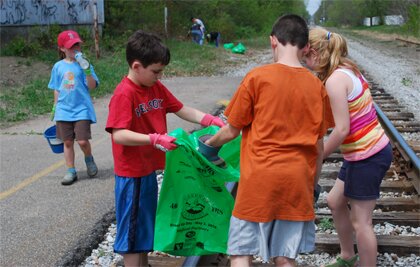 Not to brag, but I scored the best find of the day: an extremely sharp pocket knife, a green plastic-handled knock-off of the Gerber Mini-Magnum. Found a couple of other things that cannot be mentioned in a family campaign blog, but suffice it to say that the railroad continues to occupy a romantic corner of the American heart.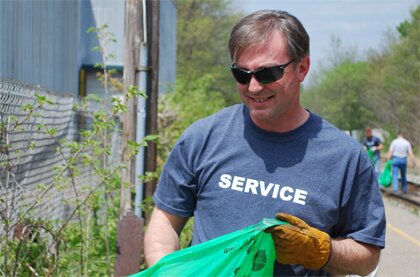 Even the Swedes got into the picture, good friend Marie in this case, who came early, stayed late, and made her stretch of track as clean as the Swedish countryside. Which is saying something.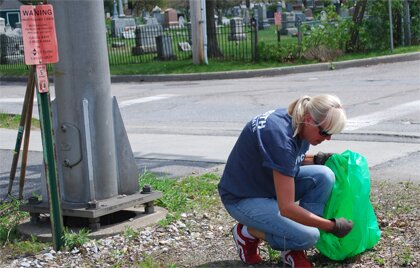 And miracle of miracles: somehow we wound up in possession of a photograph of Kathy FitzGerald, campaign photographer, and the woman responsible for the fantastic photos you see here and in other campaign related materials. Many, many thanks to Kathy, for making the picking up of trash seem so photogenic.
Here's looking at you for a change, kid.