May 24th, 2010
If you've been following Shay Totten's column or Vermont Buzz or our main campaign website, Baruth2010.com, then this will come as old news: two of the candidates in the State Senate race have dropped out in recent weeks, and then endorsed this campaign. Mike Yantachka of Charlotte and Ralph Montefusco of Burlington, each for different reasons, decided against filing a formal petition to run for the Senate.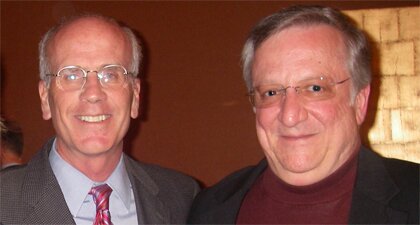 Ralph, right, with Peter Welch.
And while that does clear the field somewhat, it also takes away two excellent candidates for whom I have a great deal of respect, two guys I'd have been proud to serve with in the Senate. Ralph has always championed workers' rights, and continues to fight on those issues in his current job.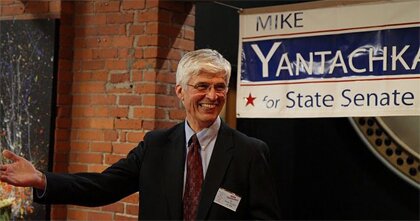 Mike Yantachka at his kick-off.
But it's still my hope that I can serve with Mike Yantachka in the Legislature, in that he's shifted his focus to the House race out in Charlotte.
Apart from being a very nice person generally, Mike combines impressive people skills with a talent for budgets and numbers, two skillsets that rarely go hand in hand. He made things happen as Chair of the Chittenden County Democrats, and I look forward to watching him light a fire in the House.
That's the beauty of this race. Since no one is running head-to-head, and a half dozen people wind up winners, it's easy to stay friends. But it helps a lot when the candidates are true stand-up guys.
Thanks again, Ralph and Mike.