September 22nd, 2010
If you thought the radically ugly wing of the Tea Party movement was something that only folks in the Midwest and Deep South could enjoy, well, best think again. Here in Burlington, the School Board has been occupied for the last couple of years in a bid to diversify the teaching ranks, where teachers of color still number only a few percent. Minority students in Burlington, on the other hand, now make up about a quarter of the population overall. Not best practice.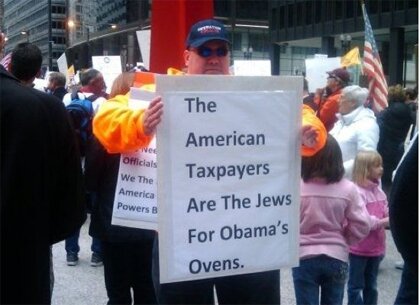 So as a Board, we've tried our best to increase recruitment and retention of minority candidates, while staying well within the sometimes hazy lines drawn by the Supreme Court. Not an easy task, but one clearly in need of doing. Or at least clear to the Board.
And the fact is that we've been making headway, which even the Free Press, not normally a Burlington School Board booster, was kind enough to acknowledge.
But not everyone agrees with the Board's view, of course.
Here's a cute little email we received just the other day, from a gentleman in the Northeast Kingdom, whose name and town I've redacted more out of embarrassment for him than for any privacy concerns. It's addressed to our district Superintendent, but consider yourself also a partial recipient. I know I do. All liberties with typography and language have been preserved. Enjoy:
Jeanne Collins
Superintendent of Burlington Public Schools
September 19, 2010
Dear Jeanne Collins
I don't read news papers or watch or listen to news on tv or radio. Benjamin Franklyn followed the same practice, and to quote him " I consider myself non the less educated or informed." Your article in the "Socialist Rag" the Burlington Free Press, entitled " SCHOOLS MAKE HEADWAY WITH DIVERSITY HIRING", left me feeling nauseous, to the point of regurgitating up my breakfast! What a wast you are! How dare you wast taxpayers money in this, the effort of all liberals, to give yourself "that huggy, touchy, fuzzy, warm" feeling!
It is becoming more obvious every day that "The American People" are fed up with bureaucrats like you. Have you watched the growth of The Tea Parties? They are protests aimed at people just like YOU! The vast majority of your students and their families are white, so why are you forcing minorities on them, to teach and control the majority? Your liberal minded socialist belief that you know whats best for the majority, is disgusting and if America is to survive, hollow socialist wasters like you, HAVE GOT TO GO !!!!!!!
"TAKE BACK AMERICA"

[Name and Address Withheld]