September 23rd, 2010
Here's a screen-shot of our Act Blue page, as it stands right now, a little before noon, Thursday, September 23rd, 2010, some 40 days or so before the November election. As you can see, we're now just inches away from the $20,000 mark, which, if you stop to think about it for even a second, is remarkable. Truly remarkable.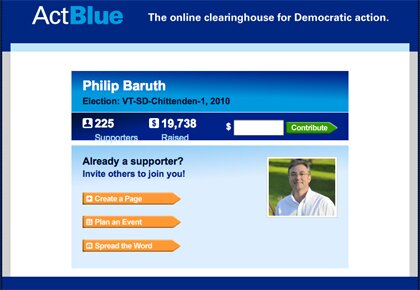 Those resources have allowed us to run a serious, full-throated, 16-month campaign for the State Senate, to take stands on tough issues and to force other candidates to declare their own positions. It's allowed us to give the issues and the voters the attention they deserve.
And it has all come directly, without the need for middle-men, over the Internet, in support of political sympathies we share.
Which is to say, if you're one of those people who like to watch all the digits on the odometer in your car roll over at once, today's the day to make your contribution. The Act Blue link is ready and waiting, right here.
Because we're taking this final fundraiser over the top by lights out today. And then we're going to win this election.