September 24th, 2010
Some pretty exciting news: Jim Dean, Chair of Democracy For America, will be the special guest at an event we'll be holding on Church Street just a couple of weeks from now. Some of you may remember that we very narrowly scraped out a victory in the competition for DFA's Grassroots All-Star endorsement, and Dean's visit with us comes as part of their continuing support. That's Jim Dean below right, refuting Chris Matthews's assertion that he, Jim Dean, was trying to "kill" Ben Nelson. (Not sure why, but I really like the ring of the last half of that sentence somehow.)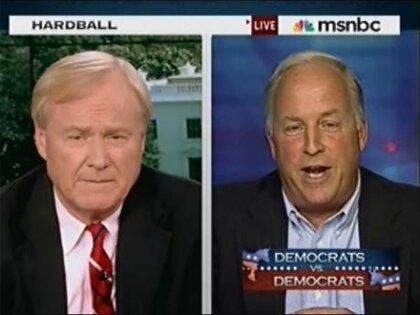 Hopefully Jim can fill us in on the state of the national races, as well as offer some words on what's happening here at home. If you've never heard him before, Dean is refreshingly blunt, the kind of straight-up political voice you find yourself applauding before you realize you have a plate of food in your hands.
The details for your calendars, Google and otherwise: the event will be held at the Dream-Like Pictures studio, 130 Church Street, upstairs and across the street from Ri-Ra's, downtown Burlington, October 7, 7 - 9 pm. Suggested contribution is $20. Your host will be Art Bell, Burlington filmmaker and digital entrepreneur.
If you're looking to get involved with this political cycle now that the endgame is upon us, it won't get more political or intriguing than this gathering. Hope to see you then.