May 23rd, 2007
Major stories in all major dailies this morning, to the effect that the Democratic leadership has agreed to a toothless Iraq funding bill.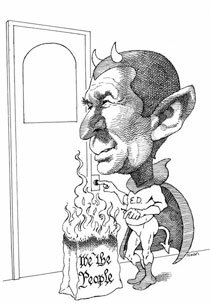 The idea, it seems, is to give Bush more or less what he wants now, but to put Republicans and the President on notice that another show-down is likely in a few months.
Which is as abject a failure of imagination and legislative will as VDB has ever witnessed.
Taken together with the embarrassing and stubborn resistance to ethics reform, the end to this war funding debate is enough to put air quotes around everything the Congressional leadership says for the next six months.
The silver lining? Welch will vote no. Absolutely.
"I am deeply disappointed that there is no deadline for troop withdrawal in this bill and will therefore vote against it. Regrettably, the President continues to stubbornly dig in his heels and cling to a failed policy."
So there's that. Which is something.