May 25th, 2007
Reviews of this legislative session have ranged from lukewarm praise to cold disdain. All VDB knows is that it was non-stop action from beginning to end.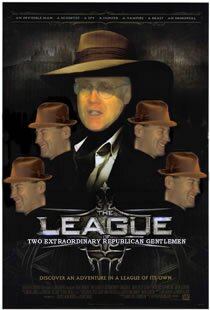 And Audio Dream Theater — our audio satire conglomerate — was there for you, covering the Legislature as it's never been covered before.
Like some wild cross between CSPAN, Marvel Comics and Firesign Theater.
The League of Extraordinary Republican Gentleman is the story of two lonely GOP superheroes: Governor Jim Douglas and his youthful ward, Brian Dubie.
Blessed with powers arguably not much beyond those of mortal men, Douglas and Dubie fight the Democratic waves that seem to break higher each cycle at the State House.
In Episode One, it was the New England Wilderness Bill.
Episode Two saw Douglas battling not only Shum-Lin, his arch enemy, but Al Gore on the signature issue of our time: global warming.
(If you've yet to listen to Episodes I and II, they're on the sidebar under "Full-Tilt Audio Satire." You'll want to bring yourself up to speed, if only for the origin stories of Douglas and Dubie.)
And now, Episode Three is coming.
The long-awaited conclusion of the LXRG Trilogy. A battle to the finish. A satirical wrap-up of the Legislative session like none you've heard before: martial arts, impeachment, Nixon, black magic, and the coming of an entirely new hero.
It's the blockbuster of the summer.
Episode Three: Statehouse of the Living Dead.
Coming this week. But not to worry: we'll let you know when to throw the Orville Redenbacher packet in the microwave.