May 30th, 2007
Let's begin with a very deep political and philosophical question: having once gone over to the Dark Side, is it possible ever to come back?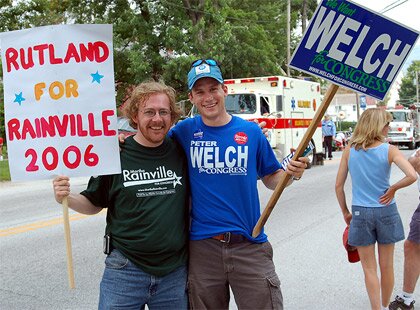 The Karl Rove School has always said no. In the Rovian mind-set, Bushies are defined not merely by the unlikeliness of their changing their minds or parties, but by their inability to do so.
But VDB lives on hope.
Which brings us to one Brendan McKenna.
During the 2006 cycle, McKenna unexpectedly left the Rutland Herald to become Martha Rainville's campaign spokesman. It was a move that puzzled more than one analyst.
Why? Take another look at the photo above.
That's McKenna mugging with Andrew Savage, his counterpart at the Welch campaign, at the Brandon parade. When we first ran that shot, more than one reader experienced profound cognitive dissonance.
Puzzled email flowed in: how in God's name, they wanted to know, could McKenna — the Republican spokesman — look so much gnarlier, hairier and just plain headier than Savage, the Dem?
McKenna looked as though he'd stopped in Brandon on his way to Glover for an eight-day bender at Bread and Puppet.
Most pundits reached the same conclusion: McKenna was a natural Leftie drawn to the Dark Side by the formidable wiles of Martha Rainville. And McKenna wasn't the only one; Rainville's camp counted quite a few centrist Democrats among its converts.
In any event, we always thought the day might come that McKenna would re-see the light.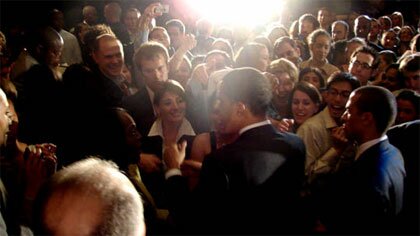 Fast forward to yesterday, when Brendan sent in a small treasure trove of Obama photos from a recent event at H20, a hot club in D.C.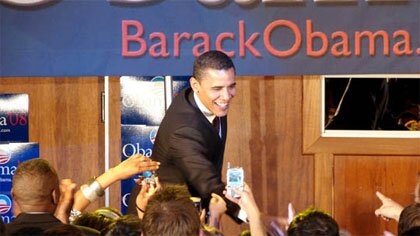 According to media reports, Obama "enthralled" the crowd, and although McKenna was there covering the event for Medill, the School of Journalism he currently attends, there is evidence to suggest that McKenna actually experienced the Obama Effect himself.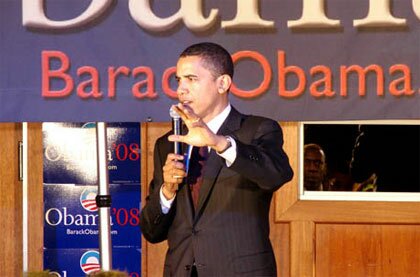 How do we know? Because in addition to taking the photos above and below, Brendan worked the whole set into a dynamite slide show VDB is currently unable to bring you.
But it's killer. And no one takes that kind of time unless they're some kind of intrigued.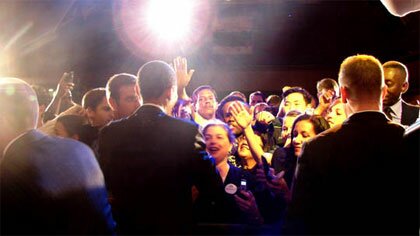 Welcome back, Brendan. It's a big tent. And if you're wondering, yes, we saved your seat.