March 20th, 2006
The Three-Years War: Protests & Denial
Word comes in of a good-sized protest this past weekend down Rutland way, a rally to mark ongoing opposition to the craziness in Iraq, on this the third anniversary of the War.
Susan writes:
"Went to the Peace Rally we had here in Rutland yesterday afternoon. For being bitterly cold, we had a darned good turn-out: 250 or so, from 8 to 88 years old, Rutlanders and far-flung Vermonters alike.
"We stood at the corner of Routes 7 and 4, by the bandstand park, and held our signs from 2 to 3:30. Lots of people honked enthusiastically as they drove by! Of course, there were one or two (males, of course) who gave us the finger and yelled obscenities.
"But then there was the guy who must have circled the block at least 10 times, honking with great gusto, cheering, and giving us the "V" peace sign out his open window . . . . And one of our group walked up and down behind the block-long line of us carrying a huge American flag. I thanked him for bringing it and added, "It belongs to us too!"
"When I said that, the sweet look on his face sort of epitomized the feeling that came up from the crowd as a whole. A wonderful event: free speech at its best, and a great way to discover that we are not alone in our wishes for a better world!"
It's worth noting that Rutland is not generally considered the liberal bastion of the state — 250 on a cold day in Rutland, Vermont is roughly equivalent to 25,000 in Central Park, with the temperature hovering in the 50's.
Of course, countering the demonstrations worldwide were the Administration's heavy hitters: the President, Cheney, and Rumsfeld, all arguing that night is day, and progress indicates a movement in reverse.
The problem, Cheney and Rumsfeld argued specifically, is that television and newspapers and liberal bloggers have distorted reality.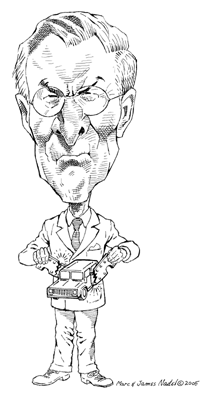 "Fortunately, history is not made up of daily headlines, blogs on Web sites or the latest sensational attack," Rumsfeld wrote in a frequently alarming op-ed. "History is a bigger picture, and it takes some time and perspective to measure accurately."
That's funny — just a few weeks ago, Rumsfeld declared that America was losing the War on Terrorism partially because we weren't blogging skillfully enough. If memory serves, he went so far as to declare VDB a "weapon of war."
And we were so patriotically moved that we promised to get with the program and cluster-post until all resistance ceased. As we solemnly vowed then, "VDB must never again forget: We blog them in cyberspace so we won't have to blog them here."
And now, apparently, we're just part of the problem, not the solution.
Look, Mr. Secretary, we bloggers don't mind being mobilized to win the War on Terror you've bungled so badly to date; and we don't mind being seen as enemies of the administration, bent on purveying the latest bad news about you and your failed efforts internationally. We're happy to be the cavalry, or the lynch mob, or both.
What we do mind, though, is your failure to make up the wizened lump of Brylcreem-slathered cortical matter you continue after three years of overt failure to call a mind.