November 16th, 2006
Truly Eerie —But Good Eerie — Obama/VDB Connections Just Keep on Coming
We've written previously about the near-mystical connection between VDB and Barack Obama. First, our long narrative about his visit to UVM's Ira Allen Chapel for Peter Welch found its way to the front page of Obama's website back in March.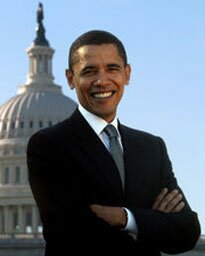 And now this: if you go to the Wikipedia entry for Obama, and you scroll through his biographical and legislative information, and then down through a long list of super authoritative references — and then through "Further Reading" — you come to a list of websites.
And if you make your way down past "Official Sites," you reach "Unofficial Sites."
And there, coming in at #4 with a bullet, baby, you'll find VDB's "Deep Inside the Obama Effect."

We know, we know: it's starting to get a little eerie, the connections and coincidences. Makes the hair on the back of your neck rise, but in a good way. It's like that list of links between Lincoln and Kennedy — except for there's only two so far. And they're actually links to the one post.
But you see what we're saying.