February 19th, 2007
What Is This Thing Called Obama?
When it comes to politics, I'm ordinarily a very strategically minded person, unlikely to get swept up in things, usually weighing the odds and always keeping an eye on the prize: putting people in office who share my beliefs, rather than people I happen to find charming or likeable.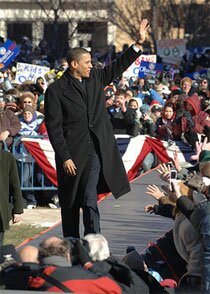 But this early 2008 Presidential primary season has been more cyclone than cycle so far, and I've gotten hurried along with it.
When a Draft Barack Obama movement started to percolate in Burlington, back around mid-December, I thought it was interesting.
Just that: interesting.
No more, no less.
Of course, I'd seen Obama when he came to the University of Vermont to campaign for Peter Welch in 2006, and he was very impressive, no doubt. Extremely impressive.
Still, there was no way I was going to buy a ticket before all the horses had been put through their paces. And then something weird happened: I went to the first Obama meet-up in Burlington.
More than anything else, I went to write about the group, and what struck me immediately was how many showed up: thirty people, give or take. And that was to talk about a candidate who wasn't even in the race, on a very cold night in December a year before the first primary.
One couple even brought their four kids, all in their PJs, and the kids crashed around the place and produced the excellent sort of mayhem that kids produce near or just past their bedtimes. Since the café specialized in European foods, we all ate spanikopita and baklava, and drank incredibly strong coffee.
And the thirty people turned out to be thirty really wonderful people: thoughtful, committed, passionate. Every other person mentioned Obama's attempt to move the discourse away from the divisive, and back toward the democratic.
I left that meet-up feeling as though I'd found something I'd been missing for a long while, the sort of common purpose and support that people say they find in their churches, and their twelve-step groups.
It didn't bear logical examination; nothing that anyone had said made Obama seem a more logical winner in 2008.
But I came away attributing the warmth of the experience partially to Obama himself, because like Dean in 2004, he seemed to be the catalyst for something otherwise unobtainable.
This past Saturday, when Obama announced his candidacy from a platform set up in sight of the Old Capitol Building in Illinois, I watched it with the same group, now called Vermonters for Obama. There were more than forty members now, and Anita, who runs the café, had thrown the speech up onto a white bed sheet tacked to the back wall.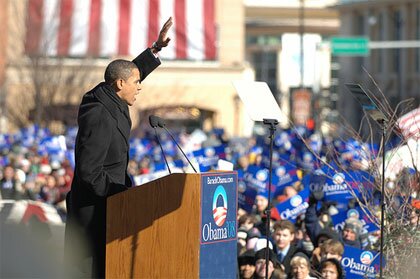 As luck would have it, it was my birthday, and so my mother was in town, and my mother-in-law, and we were all there, with the kids, sitting on love seats thrown together into rows. Obama talked about the promise of the new generation, and I felt deep in the midst of something, maybe inextricably in the midst of something, something powerful.
Maybe it had less to do with Obama than it did with plain human contact; maybe Obama will flame out before his campaign ever truly gets up and running; maybe I'll ultimately wind up voting for someone else.
The only thing certain at this point is that 2008 will not be a year ruled by logic. It will be made of slipperier stuff: virtual candidates, anonymous attacks, and, if we're lucky, the thin, distant gleam of hope.
[This piece aired originally on Vermont Public Radio. The MP3 is ]