February 9th, 2007
So much of the world has changed since November. Dennis Hastert and Rick Santorum lumber only through our nightmares now. Paul Bremer is getting public raspberries, instead of shiny medals.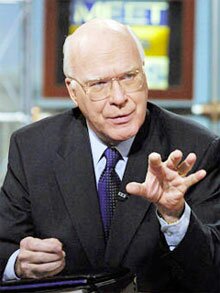 And Pat Leahy, whom VDB once dubbed "the tireless cage fighter of the Democratic Party," has been unchained. The guy has become a one-man Congressional oversight machine.
His bark is louder and stronger than it's ever been, powerful enough to produce visible motion in the hair of Alberto Gonzales when they face off in the committee room.
But Leahy didn't stop there.
No way, baby. He pushed it to the limit: Green Mountain Coffee Roasters is now the official java of the Judiciary Committee of the United States Senate. Red-staters, Blue-staters, everyone now shares the same intense Vermont buzz.
Can't get any more hard-core than that, you say?
Dream on: at the Committee's Executive Business Meeting Thursday, Leahy introduced Vermont Pure Natural Spring Water as the bottled water of choice.
And of course once you control the water supply, the debate's over, my friends. The debate is over.
Why? Because this way here, when the other side goes to mix up their Kool-Aid — well, you see VDB's point.