May 22nd, 2007
McCain's "Guatemalans" Reference No Accident, Friends: Cue Terry Nelson
You have to love it when Presidential candidates hit their marks, right on schedule.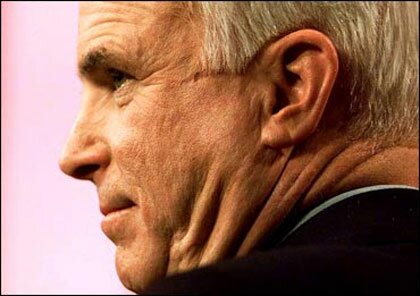 Back in December, during the so-called "talent primary," John McCain wowed the Republican field by picking up the services of one Terry Nelson. Nelson, of course, headed up the Republican National Committee unit responsible for racially tinged ads that stopped Harold Ford's campaign in Tennessee.
It was a two-fer, as talent-primary gets go. It showed analysts that McCain could score the up-and-comers, the rancid cream of the GOP crop.
But beyond that, it was significant that McCain hired Nelson specifically, and did so in the full bloom of controversy over the Ford ads.
Having been racially targeted himself in 2000, and having lost South Carolina as a partial result, McCain wanted to make matters clear: he was willing to pull the trigger himself this time out.
Which brings us to the much-discussed May 16 poll in the Des Moines Register. Clearly Mitt Romney's early ad buys, in the positive feel-good vein, have had an effect: the poll noted a sizeable surge in Romney's numbers.
And the two televised GOP debates can't have hurt Mitt. He's built for the infomercial — big, brassy voice, chin cut like a slab of marble, tallest guy on the stage in a field of ten — while McCain's soft voice and hesitant manner get lost in the shuffle.
So what do you do if you're Johnny Mac, and suddenly you see that the former Governor of Massachusetts is managing to sell voters on the idea that he's the most conservative in the field?
That's right: a deceptively casual slam delivered by conference call to right-wing bloggers. A slam that just happens to be racially charged:
"In the case of Governor Romney, you know, maybe I should wait a couple of weeks and see if it changes, because it's changed in less than a year from his position before. And maybe his solution will be to get out his small-varmint gun and drive those Guatemalans off his lawn. I don't know."
The "Guatemalans" reference is meant to put voters in mind of allegations that Romney has in the past used a landscaping service partially staffed with undocumented workers.
But as much as anything it's meant to redirect the wave of xenophobia currently directed at McCain, for his own efforts on immigration reform. By all accounts, McCain has struggled on the stump this time out, taking two hostile questions on immigration for every softball on judges or veterans' affairs.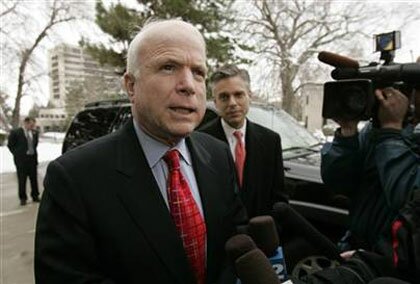 In short, McCain has now confirmed what VDB has suspected since December: that he is more than willing to play the race-baiter this time out.
And that will complete McCain's transformation from one of the most respected members of the Senate to one of the most actively pitied. Because McCain will lose, in spite of the nastiness.
And then he will truly have lost everything, rather than simply a race for the White House.
As Michael Lewis wrote of Bob Dole's sour 1996 campaign: "He's going to lose having made all the decisions one must make to win. He'll lose ugly."