December 13th, 2007
Clinton Campaign, Suddenly At Sea in New Hampshire, Brandishes Harpoon Gun (Now With Multiple Updates Tracking Clinton Camp Miscues)
Well, as the Emperor says in Amadeus, there it is. A pair of polls released this morning show Obama erasing Hillary's lead in New Hampshire, purportedly the Clinton campaign's fire-wall against a loss in Iowa.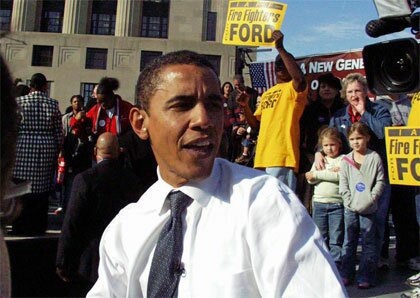 And so now — what, ten hours later? — Hillary's NH co-chair is leading an interviewer into an extended discussion of Obama's experimentation with drugs growing up. Something Obama has admitted outright, which separates him from the Bill Clintons and the George Bushes of the world.
Clearly, if Hillary loses, she will lose having done everything possible to win, no matter how questionable. She will lose ugly. Never pretty to watch.
Late Update, Thursday, 9:30 am:

Having moved the drug question into the mainstream media, the Clinton campaign executes the two-step disengagement strategy: 1) they disavow any foreknowledge of Shaheen's comments, and 2) Shaheen more or less disavows his own comments.
But it looks like a story with no legs, thus far.
Which makes sense, given that Obama has written about it very candidly in his memoir, the audio version of which won a Grammy. Hard to say it isn't old news.
Obama camp has linked this attack to the now-infamous kindergarten essay attack, and both sides seem ready to step away from it. Howard Wolfson must be pulling his hair out, somewhere deep in a musty office building on the edge of Des Moines.
Latest Update, Thursday, 8:03 pm:

Turns out the story has legs after all — but all of them are kicking the Clinton campaign's butt. Bill Shaheen has resigned, portraying it as a "personal decision."
Don't let the door hit you in the ass, Bill. Or really, on second thought, let it hit you just once, right in the old Shaheen.
Latest Possible Update, Ever, Friday the 14th, 2:12 pm:

New polls put Obama up significantly in Iowa. Add that news to the above, throw in the moment from last night's debate in which he turned Hillary's put-down about Clinton-era advisors into an ace come-back, and you've got a recipe for the Big Mo.