February 12th, 2009
The VDB Sit-Down With Andy Montroll
PARSING THE VISION THING:
The VDB Sit-Down With Andy Montroll

Last week, the Montroll for Mayor campaign got some sweet news: Ex-Governor and 50-State guru Howard Dean endorsed the longtime Burlington city councilor in his tough four-way race for the big armchair in City Hall.

Said Howard, "Andy's proven leadership, extraordinary commitment to the citizens of our community and vision of a better Burlington is exactly what we need in these trying times." And it was no accident that Dean cited vision: Montroll has been running on vision, something he — and the other major candidates — have found lacking in current Mayor Bob Kiss.
Vision is a cruel mistress, historically speaking. George H. W. Bush was dinged endlessly in the press for lacking it, and then mocked relentlessly when he tried to dismiss it as "the vision thing." Voters prefer it, the press demands it, and no one living can define it with anything even remotely approaching accuracy. And so, in this closely fought four-way race — one that will ultimately be decided via instant run-off voting — VDB decided to take the mayoral bull by the visionary horns. We sat down with Democratic hopeful Andy Montroll, and we asked him point blank: what is your vision, exactly, of Vision?

* * *
VDB: I wanted to get right to something that's been preoccupying me throughout this campaign — maybe "bugging me" is a better way to put it — and that's the word "vision." The word's been used a lot, and it's come down to whether Bob Kiss has a vision for the city, and what are the respective visions of the three people looking to take his seat.
But I really [searches for proper word] dislike the word, because it says so little. So I'm wondering if you can break it open, and really specify for us the component parts of your vision, and then with each of those components, what specifically do you mean and where do your ideas come from?
Andy Montroll: To start, with a city like Burlington, we want to have a vision, we want to have a path that we're moving down. We want to know where we are today — take stock of where we are today — and then understand where we're headed over the next 10, 20, 30 years. We've all been talking about our vision, but as you say it really does come down to component parts.
The strength of Burlington is the impact of these parts in our daily lives. We have great neighborhoods in Burlington, we have a strong, healthy downtown, a good school system, wonderful parks, we have a vibrant arts and culture community here. We have the infrastructure that supports it all, our telecom and electric. We have all of these things in our daily lives, and what we want to do is build off what we have.
And so, breaking it down, let's talk about what that means.
Our neighborhoods have to stay strong, and right now, in some of the neighborhoods, people can't sleep at night because of the noise, whether it's parties next door [particularly near the University] or whatever it is — it means that they should be able to sleep at night. And in other parts of the city, it's more preserving the sense of strong community.
I'll give you an example. When our kids were little, they were at the preschool at the YMCA, and we met up with a number of different families throughout the area, and we created a pot-luck group — families with kids similar age to ours, from all over the area. So we're up in the New North End area quite a bit, and we just feel that real sense of community with a number of different families —
VDB: These are families from across the city.
Montroll: — from across the city, right. It's at the point where the kids are sort of like cousins to each other. There was a time where my son [Elliot], who was at school at the YMCA, hurt himself in gym class — he cut his chin open a little bit — and another one of these parents from our group was there, and so he was there to help out. And Elliot was very comforted by that.
VDB: I think that's great. Now how do you foster that city-wide?
Montroll: So that kind of sense of community, which adds to the quality of life for all of us, you do want to foster. And the way that you do that is to make sure that Burlington is a family-friendly community — these are all things that tie up together — and it goes back to the neighborhoods and it goes back to the schools. You want to make sure our schools are great. And they've been under a lot of pressure, so you need to deal with that.
VDB: Now, I noticed that at last night's mayoral debate, you were asked a series of yes/no questions.
Montroll: Yes.
VDB: In terms of did you support the pending Burlington school budget — and you seem clearly to support the school budget —
Montroll: Yes.
VDB: — I noticed that three candidates supported the budget [Montroll, Kiss, Smith], and Kurt Wright was the lone candidate who didn't support it. How would you connect that into what you're talking about? It seems a significant difference that Wright often opposes school budgets while you generally have supported them.
Montroll: Schools are such an integral part of our community. After the debate last night, I was talking with an elderly gentleman who was saying that, you know, when we talk about the future of Burlington, what we're going to become, all those future citizens are in elementary school right now, or high school. They're all in school right now, literally, and who know who they are. They're going to be the ones sustaining our city 10, 20, 30 years from now.
So we need to make sure they're prepared. So to me, saying we're going to cut back on the school budget — it's easy to say that, it's easy to say we don't want to spend more. Because it's hard for people, especially some of our seniors and others on fixed incomes to have to pay more.
On the other hand, somebody needs to sacrifice, especially in these financial times. And as a dad with two kids, that's a sacrifice I feel I need to make — to say, I'll pay a bit more on my taxes to make sure my kids get a better education.
My son's in second grade, my daughter's in fourth grade. They're only going to be in those grades once. So the next year, when they're in third and fifth, if we cut back on that education, they'll never have another third grade or another fifth grade education.

So I think it's unfair to them to say — and not just my kids but across the board — it's unfair to say, "We're willing to sacrifice the quality of your education." I think that's one of the places that we, we the adults, need to really strengthen our commitment to our kids.
But having said that, each one of these pieces ties into other pieces. Last weekend, as I was out knocking on doors — which I've been doing a lot of — one of the doors I knocked on was a senior citizen, who was saying how hard it is to pay her taxes. She's been in her house for 40 years or so, I think, and the taxes that she pays, compared to what they originally paid for their house, are just astronomical.
And things were gelling as I was talking to that woman — another piece of the puzzle. These folks who've been in their homes for so long, who've been paying taxes, now on fixed incomes, there ought to be things we can do to help them. Yeah, we have Act 60 and Act 68 that helps soften the blow for them, but there should be more we can do to help them. Now, in some other communities, in other places around the country, what they actually do is start to freeze the tax increases.
VDB: New York State, for instance. My mom lives in Upstate, and when they hit 65, they don't have to pay school tax.
Montroll: For me, it's not that you wouldn't have to pay, it's that you wouldn't have to keep paying annual increases. The formula would be a combination of how long you've been in your house, and how old you are. You find where that right combination is, and I think the impact on the rest of us would be pretty nominal. The impact on the affected seniors, though, who have contributed so much to this community over the years, would be huge.
VDB: I totally agree with you on that. And it leads you immediately, it seems to me, to economic development because if you soften the blow on that group, you are going to need to get that revenue elsewhere, which leads to pressure to grow the Grand List and expand the tax base.
Montroll: Yeah. Well, in the first instance, you're not going to raise taxes elsewhere, because it's a slow gradual thing. If you have to implement a tax increase, it might be just nominally larger than it would be otherwise, because mostly it's going to be spread out all over the place. It's something that would hardly be felt by everybody else.
But you're right: the next piece of the puzzle, that vision we started talking about, is economic development, which is absolutely critical in this city. And we talk about wanting growth, but we hardly ever get down to talking about what that means, because frankly, depending on how it's talked about, it scares a lot of people.
You know, you can say, "We want a lot of new buildings in our city, or a lot of new homes," and the first thing that occurs to many people is "Oh my goodness, where are we going to put that?" But when you really get down to the specifics, there are real answers to that, and it takes the fear away.
VDB: Give me an example of a project, say.
Montroll: There are three big hindrances to economic development in our city. One is the access in and out of our city. People live here, and people who don't, are complaining all the time about how hard it is to get in and out of Burlington.
VDB: So the Southern Connector.
Montroll: [Nodding] Whether it's the Southern Connector, whether it's going down Main Street to the highway, where you have so many different traffic lights, and none of them are connected. So you go one light, stop, and then another light, and stop, and so on. To fix that, it's just coordinating lights. The reason they're not coordinated now is that you're traveling through Burlington, South Burlington, the state's transportation authority, and even through some UVM controlled areas — so you have all these districts, and it involves bringing all those authorities together.
Parking has been a perennial problem in the city. There are some short-term things you can do almost immediately to fix that, or to help soften that. One is just letting people know where there is parking, because we actually do have lots of parking lots, but you don't know where the empty spots are. You could have something on the city website, where it's kept updated, here's where there's available parking. You could have that information in real-time, available for your cell-phone.
VDB: Great idea.
Montroll: Real simple. And then there's some longer term things you can do to resolve the parking issues. But the other big hindrance is the space available in our city, for businesses to expand in that are already here, and for businesses to move into that aren't here.
I serve on the MPO, the Metropolitan Planning Organization. It's been in South Burlington for a bunch of years now — not in any kind of urban center, which doesn't match what the MPO stands for. And the Chittenden Regional Planning Commission was there also, which is also an organization that's all about smart growth. But where these commissions were located had nothing to do with smart growth. And these organizations should really be in downtowns; they shouldn't be off in suburbs.
So we looked for a place in downtown Burlington — couldn't find one. And so instead of moving to downtown Burlington, the MPO is moving to downtown Winooski. Which matches what the mission is, but it's a loss to Burlington. We need to be able to find ways to add more commercial space in our city.
What we really need to do is to identify, what are the developable parcels in our downtown, and off our downtown down on Pine Street —
VDB: And that's where I want to go next. You mentioned the access in and out of the city earlier. I know the Southern Connector has been a long-standing issue, and some people have criticized Mayor Kiss for his handling of the project, not moving forward more expeditiously with the federal money available. Where do you stand on that, and where do you see the project going, in terms of use and development of that Pine Street corridor?
Montroll: The Southern Connector has come up in front of the [City] Council I don't know how many times. Several times at least, since I've been on the Council. And every time, when it's come to a decision, the Council has always approved moving forward with it. And once the Council signs on, it's actually up to the Administration to make something happen.
Last time we did that was just before Bob Kiss came into office. We said, "Yes, we're going to move forward in the way that was recommended by Vtrans, the Vermont Agency of Transportation. Then-Secretary Dawn Terrell came to us and said, "Here's a way to get it done, and we'll stand behind you, but we're not going to support another way of doing it." So the Council said, "Well, it's better than nothing so let's go ahead and do it that way."
VDB: And this is the two-lane version?
Montroll: It's the one that feeds ultimately onto Pine Street, and then goes down to King Street, as opposed to the plan that had a bypass and that would cut through the rail yards and head down to Battery Street that way. That one, I think, would be a much better route but it's not one that seems to be a real option for us. And for me, it's better to do what you can now, then later if you need to you can improve it. As I always say, it's much easier to go from something to something better, than it is to go from nothing to something. Nothing to something is where the heaviest lifting is involved.
So on that, the Council approved, and the Mayor wanted to look at different alternatives, and everything slowed way down. And at this point we got notice from the Federal Highway Administration that they're ready to pull the funding because of what's happening with it.
Now, what I would do as Mayor is step in and say, "This is a project we've been working on for years. It's been languishing for years. People have always said it'd break ground 'two years from now' but it's been a rolling two years. We either need to build it, get it built, or realize that it's not going to be built and move on."
VDB: To me, it's a crime in several senses to have that area of the city [South End, west of Pine Street] be off limits, due to Superfund issues, or not being able to build because of conflicting rights of way. But for an area that's so close to the lake, and so close to downtown, it's a gold mine for the City. And it seems like, short of cleaning it up entirely and making it a greenfield site for development, being able to transport people through it seems like a no-brainer.
Montroll: Yeah. And the problem with letting the Southern Connector languish for so long is that it's in all our development plans, it's what we've come to count on, so we've had to put a lot of other things on hold. We still need to get truck traffic off of Flynn Avenue, we still need to get cars moving more smoothly into downtown, we still need to get people in and out — cars are just one component of moving people. And that is another piece of the puzzle, in this vision of Burlington we've been breaking down.
I was at one of our senior centers the other day, speaking with some of the folks there, and the challenges that they have going from the South end of the city to the New North End of the city are pretty tremendous. Especially on a Sunday, when the mass transit schedules are scaled back. People still need to move.
VDB: Speaking real quickly about the New North End, I noticed that at that same mayoral debate — again, in a yes/no question — you opposed the development of Leddy Park into an 18-hole disc golf course. And you were pretty firm about that. Can you explain your reasoning there, and what you'd do with that issue?
Montroll: I think around 10 years ago or so I was down in Maryland visiting some of my family, and they took me to play disc golf. First time I was ever exposed to it. It's a very fun game. A really great game. And I actually came back and told Wayne Gross, Director of Parks and Rec, that we should do disc golf up here in Burlington. It wasn't one of the projects that I actively promoted or anything, and I was kind of disappointed that they never did anything about it.
So I think it'd be a great addition to our recreational offerings here in Burlington. I don't think Leddy Park is the place to have it, though.
And the more I've been hearing about it, it seems that it's really a very different use than what Leddy Park is currently being used for, right now. But there are places in the city where you could have it. Another one of our Councilors, Dave Berezniak has been looking at another site that looks like it could be really good. And it looks like there are some creative ideas —
VDB: Where would that site be?
Montroll: His site is where the city's old landfill is. It's been completely capped and, as I understand it, it's completely safe there. And it's a big, open area that could accommodate a project like this. There are other areas in the city where I think we could do something as well.
So, rather than focusing on just one location, that's so controversial — I just don't think we need to do that in Burlington. I think we can develop a project where everyone comes together and says, "This is great."

It always comes down to balance, it always comes down to the right location and the right project. A few years ago, I was working on making sure we had dog parks here in Burlington. Because there's a whole, large group that have dogs — it's amazing how many houses, as I knock on doors these days, you knock on the doors and immediately you hear the barking —
VDB: I have one of these dog parks right at the end of my street, Curtis Avenue, out in the New North End. And before it went in, people talked about the additional cars, and dogs barking day and night, and none of that turned out to be any problem at all.
Montroll: It really works. That's something where we set up a system to start four or five parks, and Parks and Rec has only been able to put up two of them. I think we should have more of those in different areas of the city. The park system should be able to accommodate so many different uses.
VDB: I wanted to ask you about [dramatic pause] the real vision. Now, in my estimation, this separates the vision men from the vision boys, and that is IRV [Instant Run-off Voting, which Burlington adopted in its mayoral race last time out]. As far as I can tell, no one has any idea how IRV is going to impact this race — or any other race, really. Last time out it proved mildly surprising, I think, that Bob Kiss won in a later round of IRV counting. This time around it's substantially more complicated because you have four candidates with strong backing around the city. How do you think about that going forward? How do you think about IRV dynamics, and how does it alter what you're doing and saying?
Montroll: The first thing I've been doing is going out to get everyone's first-place vote. I've been running a really strong campaign, a really active campaign. I've been meeting a lot of people one-on-one, and in group settings. For me, a mayor's race is all about the personal connection. Ultimately, people decide to vote for a candidate for mayor because they know the person, either directly or indirectly.
I've been going for those first-place votes, and being respectful of the other candidates. But also, being honest about what the differences are between us.
VDB: Any particular difference you want to quickly lay out?
Montroll: Um —
VDB: Just quickly.
Montroll: Sure. A big one is — and this came up at our recent debate — how we see the city evolving, and who's going to be in control of it. I firmly believe that the people in Burlington should play a significant role, and we should put things in place to ensure that people have a say. As opposed to being a lot looser on public input, and saying, "Well, let's let the developers dictate what we're going to do. Let's let developers dictate how much room people have allotted to walk down the street."
Look at the Westlake project, which is the one at the corner of Battery and Cherry streets. We let them, for some reason, build the building with the back of the building facing Battery Street, as opposed to the front of the building. We talk about wanting to be a pedestrian-friendly city, yet if you walk on that stretch of Battery Street, you're now walking by the steel grates of a parking garage. It was easier for the developer to do that, but that's not part of that evolution into a pedestrian-friendly city.
VDB: So without sharpening this up too much — I asked if there were significant differences with other specific candidates, and you mentioned this. So are you saying that one or more of the other candidates would be more friendly to the developers than you think is healthy overall?
Montroll: I think so.
VDB: [Laughing] Okay, well who would that be?
Montroll: Actually, I think all three of them.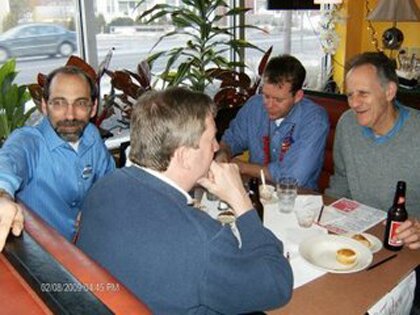 VDB: Okay. So you think that's a real clear dividing line for voters to consider.
Montroll: Yes. Yes.
VDB: Okay. I wanted to say, finally, that you have demonstrated an incredible persistence over the last few cycles, in coming back to the Mayor's race. And of course as a longtime President of the City Council, you bring a full resume, and so that makes sense. But you've shown a real doggedness in coming back to this race, and each time you've brought a version of the idea that you want to work at the neighborhood level to produce what we call, in political shorthand, the vision of the city. That strikes me as a very consistent message that you've had.
But let's stay with the doggedness itself. This is a race where you've moved closer to the Mayor's office than any other. What's different this time around, and how do you view the end game, with just a few weeks left?
Montroll: [Smiling] The biggest difference between now and the other times is that I'm now actually in the race for Mayor. The last two times it was just in the race to get the nomination. And that's a huge difference. This is actually the first time that I'm in the general election campaign.
And the reason I'm doing it is because it's so important to me. The way Burlington evolves, the future of Burlington, making sure that it remains one of the most exciting, livable communities in the country — that's so important to me, on so many different levels.
And I've seen us, especially in these last few years, start coasting along. And we're too great a city to just be coasting. You know, when Bob [Kiss] was first elected as Mayor, people were already coming up to me and asking, "Are you going to run again?" And for the longest time after that I thought, "I don't know — if he turns out to do a great job, then why would I run?"
But I just haven't been satisfied at all with the way things have been going these last few years, and neither have a lot of people out there. So for me, this is a whole different sort of race than I've ever been in before. It's a much more expansive race.
VDB: Considering the focus you've had on the mayor's race, and that you've come back to it a couple of times, very doggedly, and that you talk a lot about the little guy in the city, it starts to sound a bit like Bernie Sanders, his career and his approach — which ultimately took him into the Mayor's office. And from there to the Senate. What do you think about that?
Montroll: Well [Cracks up] I've never had that comparison before —
VDB: [Laughing]
Montroll: — but you know, maybe at the core of it, maybe we're both looking out for the future of Burlington, and Bernie certainly made some major changes, and a lot of them were all to the good.

VDB: The waterfront, the Church Street Marketplace.
Montroll: Yeah, a lot of what we are today. And yes, you could complain about some of the details, you could complain about some of the challenges that we're facing, but when you look at the big picture, we're a great city.
VDB: It really doesn't get much better.
Montroll: However you want to cut it. We're a great city.