October 28th, 2008
Okay, so you missed it: Peter Welch's Magic Bus to New Hampshire, and all of the glorious door-to-door canvassing that went with it, is now History. But we thought we'd bring you a detailed photo retrospective, made all the more authentic and compelling by the authentic and compelling cell phone images used to illustrate throughout. This was Lebanon, New Hampshire, October 25: You Are There.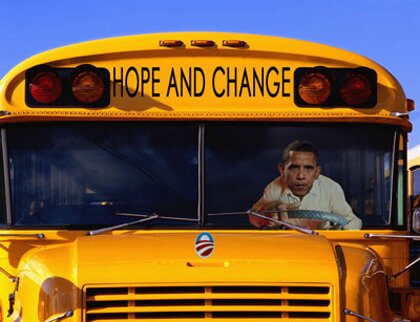 Although the caravan was originally scheduled to roll out at 9, a staffer in the Combined Campaign office told us 9:30 when we called to double-check. At first we were glad to have the extra half hour to sleep, but then we had this creeping doubt: what if the staffer, whose name we'd neglected to note, was wrong and the bus left without VDB?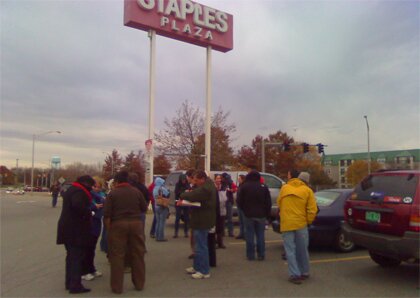 So when all was said and done, it seemed prudent to show up at 8:50 am with a huge box of donuts. And of course, we were among the first, and beat the bus to Staples by a good twenty minutes.
But it was a fine group to kill time with: mostly committed young activists, college-age or thereabouts, but with a sprinkling of seasoned veterans, and Peter Welch and Madeleine Kunin to round out the ensemble. Like Hillary Clinton herself, Kunin has been doing yeoman's work (yeowoman's work?) for Obama since the primary fight was settled, and you had to love the dedication there.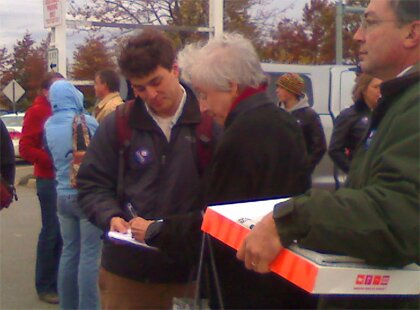 In the bus on the way down, everyone drifted back into the worst habits of middle school. VDB managed to snag the back seat (Sweet!) then wound up having to share a seat with a girl, Carolyn Dwyer, but fortunately photographer Matt Griffes managed to give us a Cootie Vaccination, and then a Booster Shot once we hit the New Hampshire border.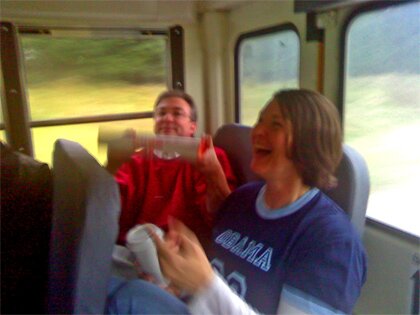 The Lebanon operation, like nearly everything related to the Obama campaign, was larger in size and smoother in function than anyone had any right to expect. More than a few of the faces were familiar, like VDB-stalwart Susan Beard, coming in for a clinch in the photo below.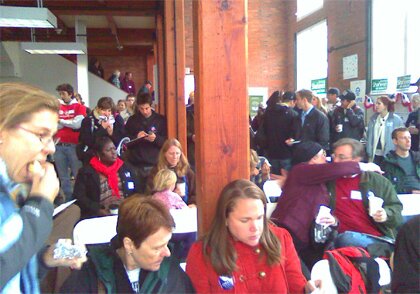 We wound up with about 150 to 200 people drifting around a refurbished mill complex on the river, but we didn't drift for long: the organizers had everyone on the road inside of 30 minutes, with highly detailed walking maps, and packets with literature not just for Obama but Jeanne Shaheen (Senate) and Paul Hodes, the President of Peter Welch's freshman class in the House.
Of course, the highly detailed maps did not prevent highly embarrassing moments where no one knew which way was up. Streets veered up and down huge hills, sidewalks were non-existent for the most part, and more than once we had to rely on the kindness of strangers for basic directions.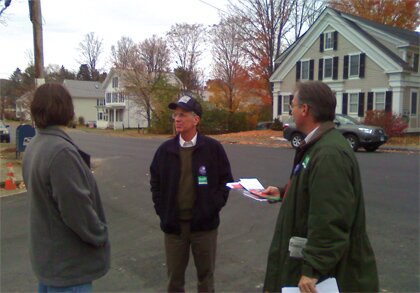 But eventually we got our groove on, and our small knot of volunteers canvassed about 45 houses. The number of New Hampshirites actually home at those 45 residences? Maybe 10, tops. But some of the conversations were illuminating, to say the least.
One woman, a self-declared undecided voter, said that she was unsure about Obama. When we asked her to unpack the uncertainty, it came down to a series of nested Fox News talking points, each packed elegantly inside another:
Since Obama has promised so much, she argued, he can't possibly deliver on those promises, which would make America even more cynical, and therefore it's more realistic, and hopeful, to choose McCain, who's promised so much less.
We know: a breathtakingly circular logic.
Her final concern? That in a time when the US has so many needs, like healthcare for the uninsured, Obama wastefully chose to fly a big plane all the way to Hawaii to see his dying grandmother. Left unspoken was the favorable comparison to McCain, who didn't fly a big plane to Hawaii to see a dying relative.
A good reminder that polls may show Obama some 7 points ahead in New Hampshire, but if and when he wins the state, and the country, there will be a very large opposition ready to assume its stance on Day One.
And of course the day was replete with symbolic images, of the sort you can only get in the last 10 days of a Presidential campaign. Take this shot of a huge McCain sign fronting a graveyard, for instance.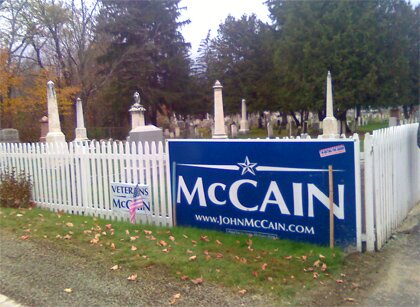 Pretty spooky stuff. But far spookier when you actually got up close enough to read the fine print.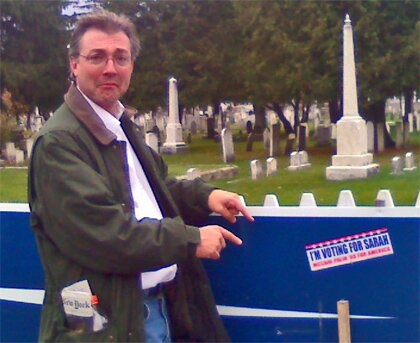 In all, the sort of day that lets you sleep in on Sunday morning with a clear conscience. And it was impossible to avoid the inference, given the size of the contingent that assembled in Lebanon, one small town in one battleground state: that Obama supporters are doing this all over America now, to an extent unseen in the last 35 or 40 years.
Forget the old common wisdom, that the GOP has an edge in the mechanics and logistics of Get Out The Vote. That edge — if it ever existed as something other than a cover for the last-minute manipulation of electronic voting tallies — that edge has been utterly obliterated, and then some.
The Obama Effect is underway, in short. More as details warrant.
[Many thanks to Matt Griffes, VDB's canvassing partner, cellphone photographer, and supplier of all necessary Cootie Boosters.]