October 28th, 2008
Look what the wind blew in. The Burlington Free Press is reporting that Mark Shepard, with one week to go in the current election cycle, has thrown his hat into the Congressional ring as a potential write-in candidate.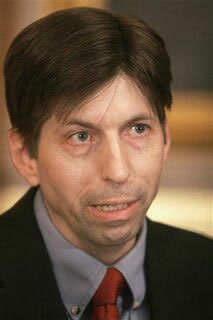 Apparently Shepard sees the potential for massive backlash in the Wall Street Bailout. And so he's in it to win it now.
Except not really.
He makes a point of telling Terri Hallenbeck, for instance, that he's "not measuring the drapes," generally considered to be off-message in a campaign for Congress.
For those of you who've forgotten Shepard's failed Rightward lunge for the GOP nod back in 2006, we recommend the sit-down we conducted at the time: "The Initially Amusing, Unexpectedly Queasy Interview With Mark Shepard."
That conversation established Shepard's reputation as Vermont's pale version of Rick Santorum, which we regard as one of our key achievements.
Good for a laugh, anyway. And with the announcement of Shepard's write-in campaign, that'll make two laughs for today, which isn't bad for a Tuesday.