January 26th, 2009
The mail on the Inauguration keeps streaming in apace, but look people, we have to cut it off at some point. Bush is gone. Obama is in the House. Even Dick Cheney has taken to hawking commemorative shotguns and waterboards in late-night infomercials. And so we must move on as well.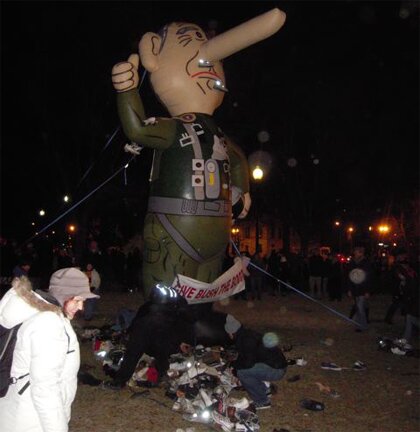 So we leave the Inaugural coverage with this choice shot from Erik Filkorn, who braved DC and stumbled eventually upon this giant blow-up Bush doll, being pummelled with shoes. Shoes of all sorts, which were apparently left to rot there as a lingering monument to arrogance and incompetence.
One of the many things we'll miss about the Bush Years: the shoe jokes. We'll never see their like again, so we might as well take this opportunity to quote Danziger on the subject, one last time. Love the woof.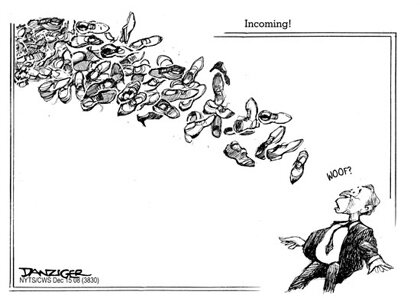 Late Update, 7:19 am:

We would extremely remiss, however, if we didn't embed this killer video from the lens of Seven Days filmmaker Eva Sollberger. Impossible to capture the mood and the spirit of the Nectar's Inaugural event any better than this. Just brilliant, Eva.
An Even Later "We Wish We Could Quit You, Inauguration" Update, 7:28 am:
Just have to pass on this really choice passage, in a long email from Bob Williamson, as rock-solid an early Obama supporter as you could hope to find, on his one regret:
"My one real regret came in the late afternoon of January 20th, when I saw Chicago Alderman Ed Burke walk by with his entourage of five guys. Burke was a real obstructionist when Chicago's first African American Mayor Harold Washington ran the Windy City. This was the very time Barack was a community organizer on the South Side. I wish I had gone over to Burke and said: 'Mr. Burke, I'm Bob Williamson. I used to live in Chicago. What a day, eh? I'd like to think Harold Washington's smiling somewhere in heaven.'
"And even though I didn't give him the needle, Burke will need to work with a President Obama. I smiled as I thought about that and Burke's entourage of five and President Obama's two million massed on the Mall. (I later heard that Colin Powell and Steven Speilberg sat next to each other at the Inauguration, with a view of the millions stretching from the Capitol to the Lincoln Memorial. Spielberg said to Powell: 'That's not computer generated. It's real.')"