April 28th, 2009
Once upon a time there was a journalist and blogger named Darren Allen, who apparently went running with Peter Welch, very early in the morning. And so the Welch folk clearly remember this, and believe that other visiting journalists and bloggers might like to go running very early in the morning with the Congressman. But this was an error on their part; no one but Darren Allen will ever do this. So I met Welch after his run, for hotcakes with bad maple syrup.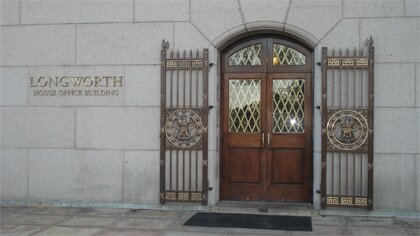 According to the schedule, it will be a long day, with multiple press conferences, and hallway wrangling on efficiency, climate change, health care, you name it. But Welch seems to approach it with a good measure of philosophy.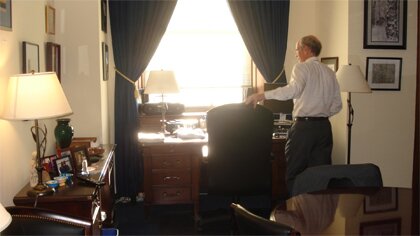 In fact, the guy seems to love his job. Really love it, maybe even more than he expected. And he's not the only one: staffer Paul Heintz was never this positive back in Brattleboro.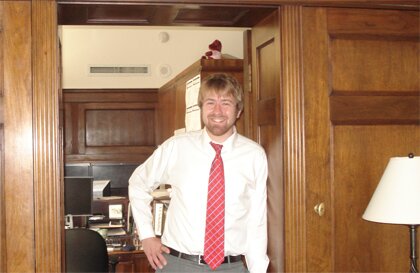 But first things first: bad cafeteria food, albeit served in green cups and plates and utensils. And as an added treat, the occasional political figure that only a connoisseur would recognize. This guy? Former Cook County Commissioner Mike Quigley, the guy who beat the field to take Rahm's seat, representing Wrigley Field. Love this guy. Chicago in every intonation.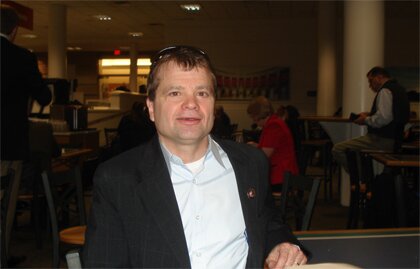 And that's it, friends. Show time on capping credit card rates. And I'm all about taking it to the credit card companies, as often and as hard as possible. Yes, Lord.