April 28th, 2009
Elsewhere in the country, in this late postmodern Year of Our Lord 2009, we call them flashmobs: groups of committed types who message digitally and then congregate physically. Just for a few moments, and then the group disperses, leaving a meme in place, to live or die. In DC, this is called a press conference.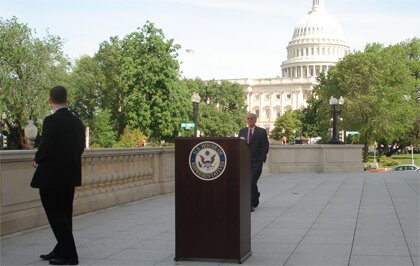 This morning Welch has credit cards on his mind. He thinks that the Credit Card Bill of Rights, while commendable, is incomplete without an overall cap on interest rates. It's an issue Bernie has hammered away at for years, but now, as with many things post-Bush, it seems within reach.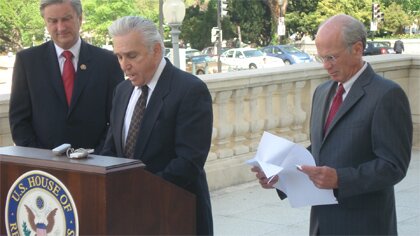 Especially with help. Today Welch is tag-teaming with two other House members, Congressman Maurice Hinchey (D-NY) and Congressman John Tierney (D-MA), on the steps of the Cannon House Office Building Terrace. And the beauty of both Hinchey and Tierney is that they're both clearly pissed about this issue. Personally pissed. Which tends to make the words leap nicely off the podium.
And it's nice, too, because this is an issue about which I, personally, am also pissed.
So I'm with Welch's two teammates from the get-go, but Tierney in particular manages to put just that extra bit of pepper on the fast-ball. He's working various formulations of the idea that either the House is with credit card holders, or the "usurious" and "unfair enrichment" of the credit card companies.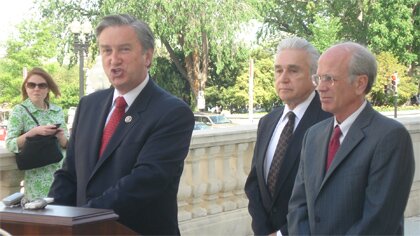 Add that to the fact that the guy's a dead ringer for William Weld, and you can see why Massachusetts goes for him in a big way.
In the Q/A, a rumpled, slightly jaded looking reporter points out that a version of this legislation died last time out.
But Welch makes the difference clear: we're in the post-TARP era now, with taxpayers pumping money into the banking system at .25% interest, money that is then lent to credit card holders at rates sometimes in excess of 40%.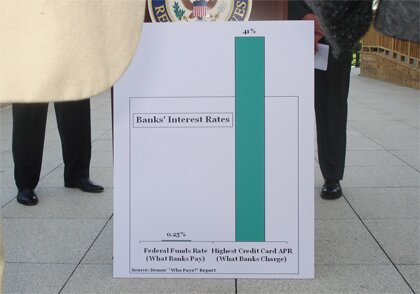 Which is why charts help. It's one thing to hear that you're getting screwed; it's another to see a bar graph of that same screwing.
Okay, that didn't come out right, but you see my point.
And then the press conference is over, and everyone disperses, back into the massive stone buildings in which they spend their days. Except for the handicapped, who are out in force today, and are not taking no for an answer.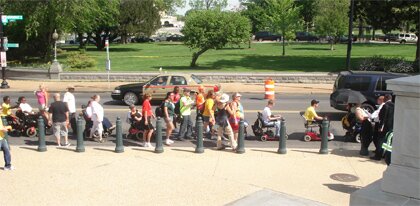 So I join the parade. It suddenly seems like the right thing to do.