July 21st, 2009
The Free Press is reporting that Jim Douglas has taken the helm over at the National Governors Association, in the tradition of Howard Dean and Dick Snelling. Douglas wasted no time declaring health care the group's focus for the coming year. "It's an opportunity . . . to be a player in health-care reform," the incoming Chairman said. Quite.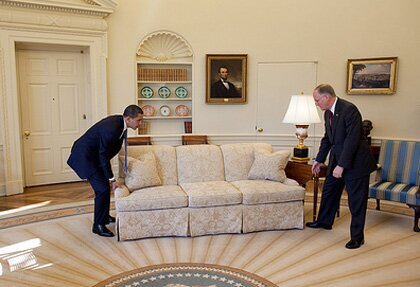 And what did the new player play first? The anti-public option card: "I don't think a public insurance plan is necessary," Douglas told the press.
How fortunate (for the national Republican interest) that an anti-public option Governor from the Northeast takes the Chairman's slot at just this particular moment.

With his mild, shucksy style, Douglas is the perfect delivery vehicle, not for the vague Republican health care alternative that never quite comes into focus, but for the very clear and very real Stop Health Care Now movement.
Douglas's first remarks were particularly telling. After roundly dissing the public option, Douglas issued a later statement clarifying that these were his personal opinions, rather than those of the group, which does not take a public stand on the issue.
Expect to see this particular two-step executed frequently over the next year.
In the past, we've called Douglas's years in office a "slow-motion crusade against accomplishment," as a way of getting at his particular governing style: remain essentially motionless for the bulk of the legislative session, and then snap into action during the end-game, to ensure that progressive legislation dies on the vine.
But never has the Governor's flair for action-prevention been put to a test of this magnitude. Now he won't just be stopping one small state from leading the nation — he'll be stopping an entire nation from bettering its state.
Which is a big step. Way to (not) go, Governor.