July 25th, 2009
Today is a huge, even a sacred day here at VDB: Sarah Palin's last full day as Governor of Alaska, before she hands over the reins of power tomorrow, unprompted by true emergency of any sort, at a big picnic in Fairbanks. What will Sarah do post-picnic? Only Sarah and her hairdresser, who tweeted recently that her client is not either going bald, know for sure. But we hope step one is finding a new spokeswoman. Why? Oh, just because. From the Times: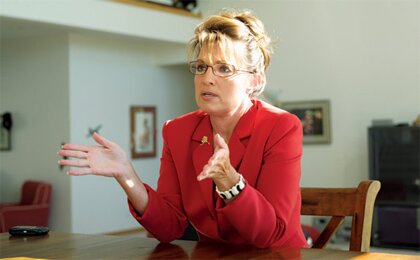 Spokeswoman Meghan Stapleton disputed the notion that Palin is running for president or has media deals lined up. ''I cannot express enough there is no plan after July 26. There is absolutely no plan,'' she told The Associated Press earlier this month. ''The decision (to quit) was made in the vacuum of what was best for Alaska, and now I'm accepting all the options, but there is nothing planned,'' Stapleton said.
VDB smells 2012 bumper sticker:
Palin. There Is Absolutely No Plan.
Or maybe:
Palin. In The Vacuum Of What Is Best For America.
Either way, we're not talking Politics as Usual. We're talking Politics As A Place Where We Make No Sense, Ever. Which is, uh, refreshing, as Bill Kristol will rush to add.