December 17th, 2009
Sweet: Bernie comes out against the Liebermanized Senate Bill. Had we written the following sentences we might have added a few choice adjectives to describe the Senator from Connecticut, but otherwise Bernie said precisely what needed to be said, on the heels of Dean's recent move: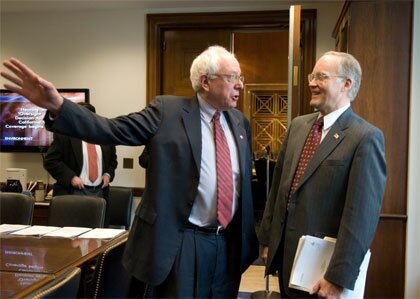 Fellow Vermonter Jim Douglas learned long ago to give Sanders a wide berth when health care is at issue.
"I'm struggling with this. As of this point, I'm not voting for the bill. … I'm going to do my best to make this bill a better bill, a bill that I can vote for, but I've indicated both to the White House and the Democratic leadership that my vote is not secure at this point. And here is the reason. When the public option was withdrawn, because of Lieberman's action, what I worry about is how do you control escalating health care costs?"
Absolutely.
Add to that the idea that the bill's mandates and penalties were always predicated on the idea that we'd not only subsidize purchase of care, but ensure a basic, less-expensive option, whether it be a newly formed public option or an expansion of Medicare.
That's why the Medicare buy-in could be substituted so quickly and seamlessly for the "public option" notion in Reid's now-failed compromise: they performed the same essential function, not just in the minds of liberals, but in the real world of regional insurance industry monopoly.
In any event, Vermont (in the persons of Bernie and Dean) is one of the last pegs holding this legislation to any reasonable progressive standard. As one might expect, looking over the last decade of politics in America.
Hang tough, Bernie. Even tougher than usual.