April 17th, 2010
Let's imagine for a second that you're someone who's been following this State Senate campaign, maybe you're even a Facebook or Twitter supporter, and yet you've never hooked up with us for an event around the County. If you're in fact, there's a great chance we haven't had a chance to talk in person yet. So we're out to rectify that situation. This coming Thursday, on April 22 from 4-6, the campaign is hosting an event called After Work Off-Line (AWOL) at the New Moon Cafe in Burlington. The idea is to bring together all the digital stakeholders we've met over the last year, as well as all the social media types who've signed on digitally but whose hands we haven't shaken in the physical sense.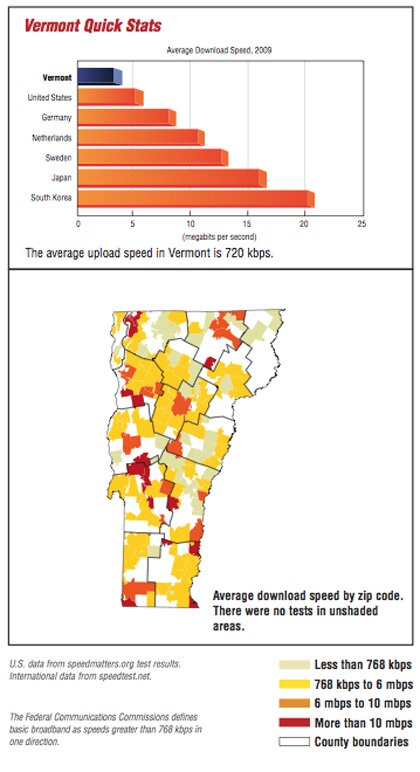 Should be an interesting group: , Twitterites, bloggers, digital designers and software CEO's, as well as a few digital filmmakers. Come say hello after work, and sit a spell. The coffee will be hot, the pastry free, and the wifi powerful. You'll see top political blogger Steve Benen, of Political Animal fame, and blogger turned House candidate NTodd Pritsky, and of course the charming Charity Tensel, formerly of She's Right.
Oh, and why should people like us unite? Take a closer look at the Vermont download speed map above. Clearly we need to send some sort of message this cycle. Be nice to get together on that.